Mischief Theatre's The Play That Goes Wrong, has revealed a new cast for its performances at the Duchess Theatre in London.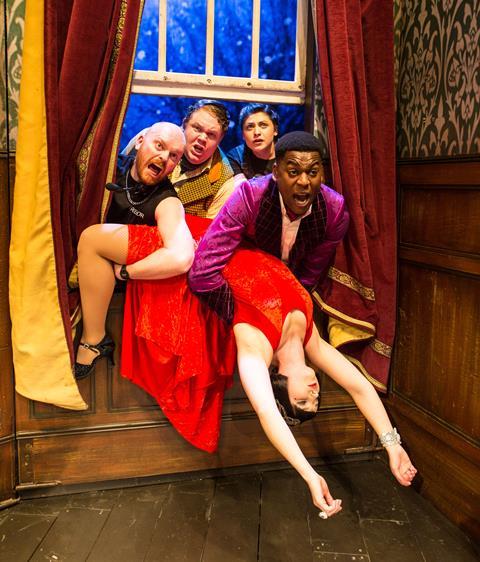 The refreshed cast will begin their performances from 26th February, with the show currently booking until October 2019.
The new cast will include: Kazeem Tosin Amore as Robert (Streetcar Named Desire, Running Wild), Jake Curran as Chris (Diary of a Nobody, A Haunting), Catherine Dryden (The Winter's Tale, Scuttlers) will play Annie, Bobby Hirston (Beeston, A Midsummer Night's Dream) as Max, Benjamin McMahon (The Funfair, Shakespeare's Sister) as Dennis, Gabriel Paul (The Queen of Chapeltown, Bouncers) will star as Trevor, Steven Rostance (The Comedy About a Bank Robbery) as Jonathan, and Elena Valentine (Dracula, Gatecrash) as Sandra .
Synopsis: The Play That Goes Wrong
The show follows the story of the 'Cornley Polytechnic Drama Society' who are attempting to put on a 1920s' murder mystery, but as the title suggests, everything that can go wrong, does.
Audiences will enjoy watching the accident-prone thespians battle on against all the odds to get to their final curtain call.
More about Mischief Theatre
Mischief Theatre was founded in 2008 by a group of graduates of The London Academy of Music and Dramatic Art (LAMDA) and began as an improvised comedy group.
The rags-to-riches story of the company started its life at a London fringe venue with only four paying customers at the first performance. Since then, it has played to an audience of over two million.
Mischief Theatre recently also announced a year-long residence at the Vaudeville Theatre opening in September 2019 with Groan Ups – the first of three new comedies.
Their other production The Comedy About A Bank Robbery is currently at the Criterion Theatre and on a national UK tour whilst The Play That Goes Wrong is also on a national UK tour and has recently completed a two-year run on Broadway.
GTOs can call 03303 334810 for more details on taking a group. For more information, visit www.theplaythatgoeswrong.com.