Cameron Mackintosh has announced a new cast for the London production of Les Misérables which will open at the newly renovated Sondheim Theatre on 18th December.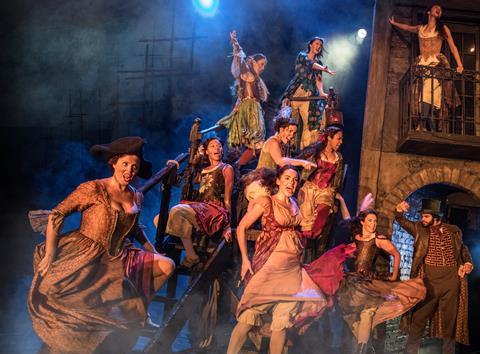 Jon Robyns will star as Jean Valjean, Bradley Jaden as Javert, Gerard Carey as Thénardier, Carrie Hope Fletcher as Fantine, Shan Ako as Eponine, Josefina Gabrielle as Madame Thénardier, Ashley Gilmour as Enjolras and Lily Kerhoas as Cosette.
Rachelle Ann Go will return to the role of Fantine for seven weeks in the spring and will take over the role next summer.
Cameron Mackintosh, said: "As Les Mis enters its 35th year in London, I am thrilled that we have found a brilliant and exciting cast to open my new production at the Sondheim Theatre, many of whom were not even born when the show first opened.
"I am particularly delighted that Jon Robyns will be leading the company as Jean Valjean. Jon originally played the role of Enjolras when I first produced this new production in 2010. He also starred in Avenue Q for me in the West End and is currently having a huge success as King George in Hamilton at the Victoria Palace."
More about the new cast
Jon Robyns, who is currently playing King George in Hamilton also took on the roles of Princeton and Rod in the London production of Avenue Q.
Bradley Jaden is currently playing Enjolras in the concert of Les Misérables at the Gielgud Theatre, a role he played in the 30th anniversary cast of the show at the Queen's Theatre. Some of his other theatre credits include Fiyero in Wicked at the Victoria Apollo Theatre and the UK tour of Ghost The Musical.
Gerard Carey originated the role of Robertson Ay in Mary Poppins and played James Walsingham and the Photographer in Half A Sixpence, both at Chichester Festival Theatre and the Noël Coward Theatre.

Carrie Hope Fletcher is currently playing the part of Fantine in the concert of Les Misérables at the Gielgud Theatre. She previously played Eponine in the show at the Queen's Theatre. She also starred in Heathers at both The Other Palace and the Theatre Royal Haymarket.
Rachelle Ann Go played Gigi in Cameron Mackintosh's new production of Miss Saigon at the Prince Edward Theatre in 2014, a role she reprised when the show opened on Broadway in 2017.
Shan Ako is currently playing the role of Eponine in the concert of Les Misérables at the Gielgud Theatre where she made her West End debut and Josefina Gabrielle was most recently seen as Velma Kelly in Chicago at the Phoenix Theatre.
Ashley Gilmour's other theatre credits include Link Larkin in the national tour of Hairspray and Lily Kerhoas made her West End debut in the role of Cosette in the concert of Les Misérables at the Gielgud Theatre.