Hard Rock International has announced plans to open a new flagship cafe in London's Piccadilly Circus in 2019.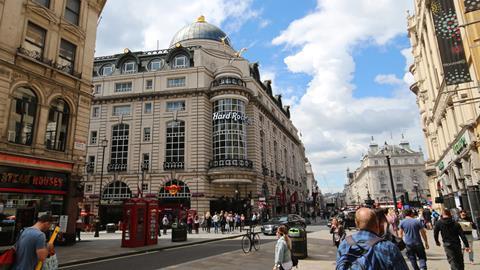 The brand's newest venue will showcase Hard Rock's modern vision and will include a new style, what is thought will be the world's largest Rock Shop, contemporary memorabilia, and a new menu.
It will complement London's Hyde Park based Hard Rock Cafe, which was the first of its kind and will be keeping elements of its historic décor in homage to its roots.
Highlights of Piccadilly Circus' Hard Rock Cafe
The new venue will be more than 1,800-square-metres in size and will feature Hard Rock's blend of music, entertainment, iconic merchandise and authentic American food and drink.
The London building will showcase an open kitchen concept, along with a new design style, which will draw on inspiration from the city and will include Victorian glazed tiling and the fabrics and colours of the London Underground.
A stage for live music performances will feature in the main dining room.
Memorabilia from UK artists such as Freddie Mercury, David Bowie and George Michael will be on display, along with items from contemporary artists such as Ed Sheeran, Ellie Goulding, Amy Winehouse and Charlie XCX.
Stephen K. Judge, president of café operations for Hard Rock International said: "More than 47 years ago, the first Hard Rock Cafe opened its doors in my homeland, and a restaurant classic was born on Old Park Lane in London.
"However, all brands, even classic ones, know that to stay relevant they must evolve. Hard Rock Cafe Piccadilly Circus will embody a modern evolution of our restaurants and a wonderful representation of the brand's future."
Its iconic location, at the centre of the capital's entertainment hub, is also home to the newly opened BODY WORLD'S London museum.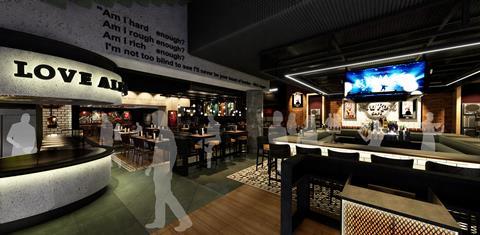 Then and now: Hard Rock International
Initially established in 1971 as a casual burger restaurant by Isaac Tigrett and Peter Morton, the London restaurant grew as many of their friends went on to become icons in the music industry and donated pieces to the cafe's collection.
Hard Rock International now owns what is believed to be the world's most valuable collection of music memorabilia. The company has venues in 74 countries, including 185 cafes, 27 hotels and 12 casinos, and an additional Hard Rock Hotel is due to open on the crossroads of London's Oxford Street and Park Lane in spring 2019.
The upcoming hotel will be a short walk from the original Hard Rock Cafe, and will feature its own Hard Rock Cafe and a Rock shop on site, as well as signature cocktails and live music.
Group menu options are available for parties of 15 or more at the Hard Rock Cafe. GTOs wishing to make a reservation should contact London.reception@hardrock.com.
For more information, visit www.hardrock.com.