The Museum of Oxford, which is dedicated to telling the history of the city and its people, has reopened following a £2.8m redevelopment.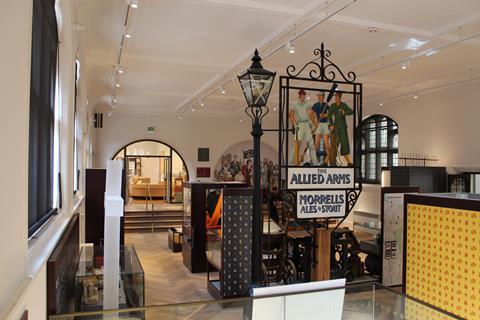 The refurbishment, which is said to have tripled the size of the museum space, includes a new shop and reception desk, forming an improved welcome area and facilities for the museum's 100-plus volunteers and visitors.
The redesign has brought together new displays of objects, images, spoken histories and interactive exhibits as well as two new galleries on the ground floor which illustrate the changing story of Oxford through its history and people, from Romans and Anglo-Saxons to the first Cowley factory workers, the infamous Cutteslowe Wall and its rich heritage through times of conflict and industry.
Mary Clarkson, Oxford City cabinet member for culture, leisure and tourism said: "Amongst such an abundance of museums, the Museum of Oxford is significant in that it is the only one that is exclusively about the people of Oxford.
"The major investment has helped re-imagine the museum for a new generation and makes it an important cultural focus for our city and communities. It's a museum for everyone, where everyone can take part."
During the museum's closure, and while the refurbishment was underway, staff were charged with hosting projects made with and by members of the community. Extracts of these form the highlights of an opening exhibition and includes: Windrush Years, which examines the lives of Oxford's Windrush generation and their descendants; Healing Spaces which documents child healthcare in Oxford's hospitals; and Mixing Matters which connects communities and celebrates culinary heritage.
The museum, which opened in 1975 in the former old City Library in the Town Hall, received support and funding from the Heritage Lottery Fund, Oxford City Council, and Arts Council England to help with the redevelopment.
The museum offers a wide range of learning opportunities for formal and informal groups. Admission is free but booking is required. For more information and to book visit www.museumofoxford.org