The hilarious Mischief Theatre has revealed its full casting line-up ahead of the Peter Pan Goes Wrong Tour, promising a night of slapstick comedy and organised chaos.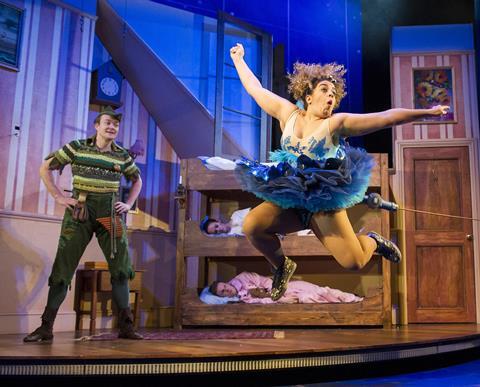 The theatre company, responsible for the smash hit The Play That Goes Wrong, will take to the stage for the show from 19th October.
The cast will be:
Romayne Andrews (Hamlet) - Dennis
Tom Babbage (The Play That Goes Wrong) - Max
Georgia Bradley (The Maids) - Lucy
Connor Crawford (American Idiot) - Chris
Katy Daghorn (Neck or Nothing) - Sandra
Phoebe Ellabani, The London Academy of Music and Dramatic Art (LAMADA) graduate - Annie
Ciaran Kellgren (Robin Hood) - Jonathan
Ethan Moorhouse, LAMADA graduate - Trevor
Oliver Senton (Cosmic Trigger) - Robert
Patrick Warner (The Play That Goes Wrong) - Francis
Eboni Dixon, Christian James, Soroosh Lavasani and Ava Pickett - Understudies
The production will open at Everyman Theatre in Cheltenham, touring 14 venues nationwide until 29th February, ending its run in Coventry at the Belgrade Theatre.
It will also spend the Christmas season at London's Alexandra Palace, from 13th December until 5th January 2020.
About the show
Co-written by Mischief Theatre company members Henry Lewis, Jonathan Sayer and Henry Shields, Peter Pan Goes Wrong is a slapstick comedy inspired performance, delivered with spilt-second timing.
The show follows the story of 'Cornley Polytechnic Drama Society', tackling technical problems and flying mishaps as they attempt to present J M Barrie's classic tale. Adam Meggido will direct the production.
It has previously enjoyed two West End seasons, a tour of Australia and New Zealand, as well as a UK tour.
A one-hour version of the show was also broadcast on BBC One in December 2016, starring David Suchet as the guest narrator. It was watched by an audience of more than six million people.
About Mischief Theatre
Founded in 2008, the theatre company was created by a group of graduates from LAMADA as an improvised comedy group.
Other productions produced by the company includes Magic Goes Wrong and The Comedy About A Bank Robbery.