Hamilton, a new musical due to re-open the new Victoria Palace Theatre in London, has announced a postponed opening date.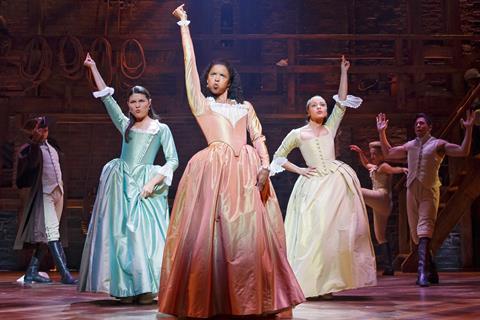 Following a multi-million pound expansion and restoration to the listed building, the Victoria Palace Theatre will open two weeks later than previously announced, with the need to reschedule 16 performances.
The musical was due to open on 21st November 2017. All seats in the first release of tickets for the first booking period to June 2018 have sold out; however, a large numbers of seats were held in reserve to be released at the time the building was nearing completion.
A new booking period is also due to be announced by the end of this year.Cameron Mackintosh, owner of the Victoria Palace Theatre and co-producer of Hamilton, said: "The time constraints to access the land around the theatre to enable the rebuild and get the show open to the public by the end of this year have proven tight, not helped by the theatre being built over the huge King's Scholars' Pond Sewer, an active 200 year-old brick tunnel.
"Added to the usual unhelpful problems that always happen when doing up old buildings, this has put pressure on the time needed to commission the entirely new services that have been installed at the theatre and obtain the necessary licences to reopen to the public.
"I am, of course, sorry to amend the performance schedule but undertaking a private rebuilding project on this scale in central London has no precedent. Thanks to the phenomenal efforts of the amazing team (of hundreds!) working often around the clock to get the theatre ready, I look forward to welcoming our patrons to the newly constructed theatre."
Customers who have purchased tickets via official Hamilton channels for the performances affected by the rescheduled previews will be contacted directly by Ticketmaster in order to be re-seated.
About Hamilton
The musical tells the story of America's founding father Alexander Hamilton, an immigrant from the West Indies who became George Washington's right hand man during the Revolutionary War.
The show features a varied score, blending hip-hop, jazz, blues, rap, R&B and typical Broadway music, and brings together the same creative team that previously collaborated on In the Heights. Group booking information has not yet been released.
For further information visit www.hamiltonthemusical.co.uk.