Groups now have first priority to book ITV tours before general release in mid-December.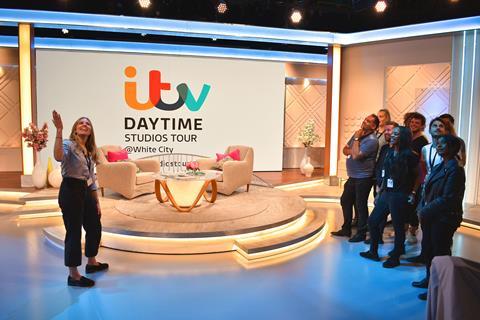 ITV has announced a new guided tour around its studios at London's Television Centre in White City, taking groups behind the scenes of some of its most popular programmes.
Good Morning Britain, Lorraine, This Morning and Loose Women are some of the daytime shows broadcast from the studios, and on the 90-minute tour visitors can explore the sets and learn how the shows are made.
The tours are said to provide unmatched insight into the daily operations of busy television studios; stories from the studio floors; access to the production corridors, home to green rooms and wardrobe departments; and plenty of photo opportunities on the recognisable sets.
Visitors will be able to access three of the four sets at the studios on any given tour, depending on the day's production schedules.
60 years of Coronation Street
In other ITV news, Coronation Street is celebrating its 60th anniversary in 2020, and tours of the filming lot will be returning. Located at MediaCity UK in Manchester, the guided tours will take visitors through Coronation Street, Rosamund Street and the recently extended Victoria Street.
New areas of Weatherfield will be opened throughout the year, as will seasonal events, new additions to the set and star tours.
Pre-booking to both the ITV studios and the Coronation Street tour is now open for groups, who have an exclusive window to buy tickets before they go on general sale to the public in mid-December.
Plus, groups can book dates across the entire year, while general sale tickets will be released for three months at a time.
Group rates - groups receive a discount for both tours:
ITV Studios Tour
10-19 people: £23.50.
20+ people: £22.
40+ people: £20.50.
Coronation Street The Tour
10-19 people: £27.50.
20+ people: £25.50.
40+ people: £24.
To arrange a group tour, contact the groups and reservations team on 0161 399 2025 or via email at itvtours@itv.com.