The theatre and dining show, based at The Vaults in Waterloo, will open in September.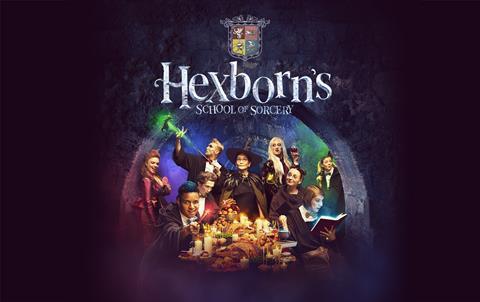 Described as 'a haven for witches, wizards and magical misfits', Hexborn's School of Sorcery is the latest immersive experience from Fat Rascal Theatre, which has previously created musical theatre parodies of The Little Mermaid and Beauty and the Beast.
The cauldrons are bubbling and the tables are piled high for the Start-of-Term Feast. But there are rumours of dark forces stirring… and everything is not quite as it seems.
The company is collaborating with show venue The Vaults, a multi-disciplinary space set in disused railway tunnels on Leake Street in Waterloo, London.
What groups can expect
Hexborn's School of Sorcery takes place underground, beneath Waterloo station. As new 'pupils' at the school, visitors will be sorted into one of four school houses, attend classes covering magical subjects led by professors, as well as explore the corridors of Hexborn to uncover its mysteries.
As with most immersive experiences, there will be a narrative to guide you through the four-hour event, which begins with a Start-of-Term Feast.
Tickets are now available for Hexborn's School of Sorcery, with performances starting on 15th September and currently running until 10th January 2021. Standard rates are £50 (including the full feast) although groups of 10 or more are eligible for 10% off.
Classes at Hexborn
Depending on the house you're sorted into, you'll take part in two 'classes':
Zephyr house - Magical Flora & Fauna / Prophecy
Nauticus house - Prophecy and Jinxes / Hexes & Spells
Wyvern house - Jinxes, Hexes & Spells / Potions & Elixirs
Pig - Potions & Elixirs / Magical Flora & Fauna
The Vault offers other alternative entertainment, such as an eight-week arts festival from January to March, independent plays and dining experiences – some previous examples include Dinner is Coming, a zany parody of TV show Game of Thrones and Aladdin & the Feast of Wonders, a wine and dine evening combined with adult pantomime.
For more information, visit www.thevaults.london/hexborns. Groups can arrange a booking by emailing ami@thevaults.london or calling the Box Office on 0207 401 9603.