The Glenn Miller Orchestra has announced it will play four concerts across the UK in October and November, including a special tribute to the 75th anniversary of D-Day.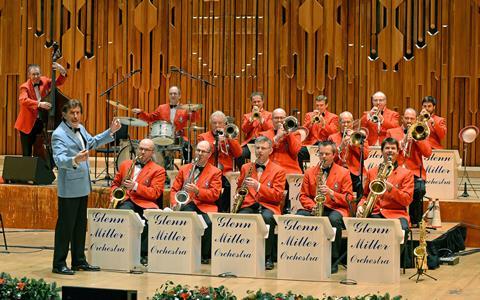 The orchestra will roll back the years, playing the likes of Moonlight Serenade, American Patrol and Texedo Junction in a series of concerts this autumn.
The performances will take place in Eastbourne, Cardiff, York and Sheffield, with groups receiving of ten of more receiving discounted ticket prices.
Ray McVay will lead the orchestra on the tour, a role he has been doing since 1988, helping the band develop a devoted following.
About the concerts
Ray has put together an orchestra whereby the exact stage line-up devised by Glenn Miller has been maintained, consiting of the leader, five saxophones, four trumpets, four trombones and three rhythm, ensuring the performance is authentic.
Each member of the orchestra will perform the second half of the concert in World War Two United States Army Air Force uniforms, and will take part in a special tribute to the 75th anniversary year of D-Day.
Max Porter and Catherine Sykes will also perform as guest vocalists during the tour. The Swing Time Jivers will make a special appearance in Eastbourne and The Polka Dot Dolls will be on hand to entertain audiences in Cardiff, York and Sheffield.
The life of Glenn Miller
Miller was considered one of the most popular dance band leaders of the swing era, making a big impact on the music scene in the 1920s and 1930s.
He performed in Pollack's band from 1926 until the end of the decade, playing alongside the likes of Jack Teagarden and Benny Goodman.
During the war, he enlisted in the US Army Air Force where he formed a new band. He travelled to Europe with his band and became a popular figure in wartime Britain.
In December 1944, his plane was lost over the English Channel, on his way to Paris to organise a Christmas concert, but his legacy lived on.
Tour dates and venues
Saturday 12th October 3pm - Eastbourne Congress Theatre - 01323 412000
Sunday 10th November 3pm - Cardiff St David's Hall - 029 2087 8444
Saturday 16th November 3pm - York Barbican - 0203 356 5441
Sunday 24th November 3pm - Sheffield City Hall - 01142 789 789