Crystal Maze LIVE Experience Manchester has launched three new games, which are open for groups to enjoy now.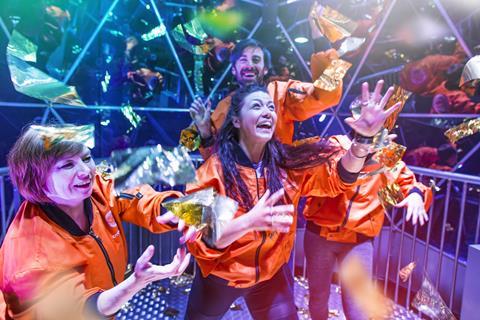 The new games have been installed across the themed adventure zones and complement its 28 existing challenges.
Among the new games is a skill based challenge in the Aztec zone called Wrecking Ball.
In addition, two new physical challenges have also been added; Spinning Planets in the Future zone and Spiders Web in the Industrial zone. Both challenges will require guests to glide across planets and climb over webs with the overall aim of securing the iconic crystals.
More on the Crystal Maze LIVE Experience
Based on the popular 90s TV show, The Crystal Maze, the programme is brought to life in an immersive experience.
Teams will be guided around the attraction and through four themed adventure zones, Aztec, Industrial, Futuristic and Medieval by a Maze Master.
Groups will try to complete a series of challenges against the clock, before entering the iconic Crystal Dome, where the aim is to catch as many golden tokens as possible to bag a spot on the leader board.
The upgrade to Manchester's games comes ahead of the opening of the all new maze in London's West End on Shaftesbury Avenue, due to open its doors in spring 2019.
Group information
Advance booking is essential.
Groups from 32 to 130 people can book exclusive use of The Crystal Maze LIVE Experience in Manchester.
GTOs can email events.manchester@the-crystal-maze.com for more information.
For more information, visit www.the-crystal-maze.com.