Cruise & Maritime Voyages (CMV) is offering groups the chance to plan and look forward to a cruise holiday for the 2021 Spring Bank Holiday.
Its new flagship Amy Johnson, arriving next April, will sail from London Tilbury on 28th May for a short three-night cruise to Amsterdam and the delightful medieval town of Antwerp.
The three other cruise holidays available for next spring are:
Columbus sails from London Tilbury on 29th May for a seven-night cruise to the stunning Norwegian fjords, cruising the majestic Sogneford and beautiful Hardangerfjord. There are calls in Rotterdam, Flåm with its famous mountain railway, Eidfjord and Norway's second largest city Bergen.
Magellan will spend the Spring Bank Holiday circumnavigating the British Isles on a colourful 11-night voyage sailing from Newcastle on 30th May, offering the chance to experience places closer to home. This itinerary visits Dundee, the Orkneys, Tobermory on the Isle of Mull, Belfast, and Ringaskiddy (Ireland). There's also the opportunity to visit Abbey Garden at St Mary's in the Isles of Scilly before moving on to Guernsey and to the Normandy town of Honfleur.
Marco Polo also offers a British Isles itinerary sailing from Hull on 30th May for 11 nights. This cruise visits Invergordon for easy access to the highlands of Scotland, the Shetlands, Stornoway, Tobermory, Belfast and Cobh near to Cork in Ireland. It finishes off with a call to the Isles of Scilly then to the maritime town of Portsmouth.
Group discounts are available for 12 or more and there's a free place when 20 passengers are booked and two free places for 40 passengers. CMV has said for 30 or more it will host a welcome cocktail party for the groups on cruises of three nights or more.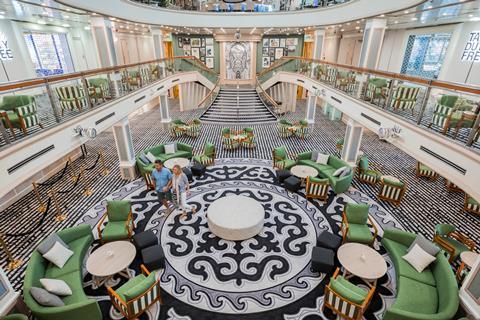 The cruise line has also announced more information about its first ever Fleet Parade & Regatta in Rotterdam on 28th August, 2021. Its seven ships will join together for a special parade and sail in convoy in both directions up and down the Mass River. The event will form part of the celebrations to mark Port Rotterdam's 25th anniversary.
There are a number of cruises group organisers can book which provide the opportunity to experience the event. For example, Marco Polo sails from Plymouth on 25th August on a seven-night European Waterways cruise.