Tour operator, Explore has launched a series of itineraries that aim to uncover a country's culture and history through its food, with the chance to also meet local producers and vendors, visit markets and prepare your very own dishes.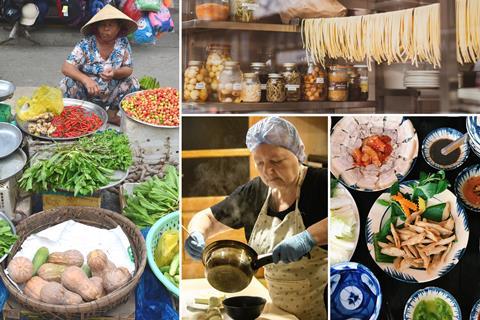 Alongside the food, groups will still explore the key highlights, cities and sites across a seven to 11 night tour.
The options just launched include Tuscany in Italy, Portugal, India, Jordan, Georgia, Peru, Vietnam and Japan. Depending on the size of the group, Explore Worldwide is able to organise the trip as an exclusive group tour, or book a smaller group onto an existing trip.
Michael Edwards, Explore's managing director, said: "Food is one of the most important things about immersive, cultural travel, and it's something that really roots you to the places you're visiting.
"Personally I'm a huge foodie, and I'm delighted to introduce these new tours that really showcase the best culinary experiences in the countries we visit – from markets and cooking demos to homemade meals shared with locals."
Some of the highlights
Japan Food Adventure (11 nights): Travel through a land of contrasting flavours, from the freshest seafood in ultra-modern Tokyo, Hida beef and sake in mountainous Takayama, to Uji the green tea capital and a private tea ceremony in historic Kyoto. Stay in a family-run ryokan, ride the bullet train, visit Kenrokuen's landscaped gardens and try your hand at wagashi making.
Indian Food Adventure (7 nights): Travelling from the cosmopolitan coastal city of Kochi on the Indian Ocean to the green highlands and tea estates of Munnar, discover the sights and flavours of India, relaxing in the backwaters on a traditional houseboat at the end of the trip. Food experiences include an introduction to Sadya cuisine, a traditional thali lunch, a dosa-making demo, a cookery demonstration with a local family, and numerous street food snacks to try along the way.
Tuscany Food Adventure (7 nights): A field-to-fork journey around southern Tuscany, tasting the flavours of its produce and regional wines and cuisine spending time on farms and wine estates, in hill top towns and the Medieval city of Siena.
Peru Food Adventure (9 nights): Learn how to create ceviche in Lima, eat an Andean lunch from a Quechua earth oven and visit a potato engineer in the Sacred Valley. All the while exploring Peru's deep-rooted Indigenous and Hispanic culture, culminating at the Inca citadel of Machu Picchu.