Leeds Castle has released details of its 2019 Festival of Flowers which will see displays across 20 areas of the historic venue.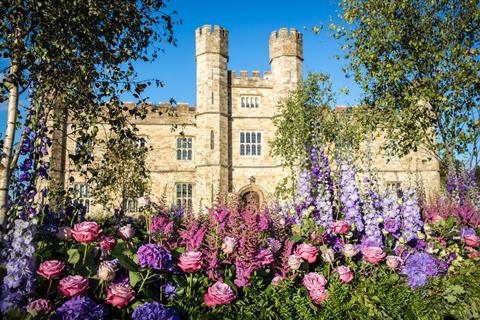 Held each September at Leeds Castle in Kent, the Festival of Flowers sees the historic castle rooms and grounds decorated in lavish floral displays across six consecutive days.
The seventh consecutive run of the event will offer a 'Floral Party' theme for Leeds Castle's 900th anniversary, which is being celebrated this year. Thousands of flowers are used to decorate the Barbican, Gateway, dozens of State Bedrooms and the castle's entrance.
Although not a competition per se, the Festival of Flowers is renowned for creativity with its variety of unique displays and designs; some encompassing full floral arches and extravagant table arrangements, others exhibiting cascading floral displays and floor-to-ceiling installations. Each floral designer is designated a different room or area to decorate, following a specific theme.
The first ever Leeds Castle flower festival ran in 1901, and in the 1930s, wealthy owner Lady Olive Baillie was famous for her floral displays at parties attended by Prince Edward and Wallis Simpson as well as Hollywood stars, Errol Flynn and David Niven.
The Festival of Flowers in numbers:
Over 20,000 stems of flowers and foliage.
900 years of castle history to inspire the designs.
500 acres of beautiful grounds and formal gardens within the estate.
Over 100 different types of flowers.
28 designers.
2 days to condition the flowers.
Visitors to the festival can also enjoy a programme of floral demonstrations, specialist talks and daily garden tours, included as part of the entrance ticket. There is also the opportunity to buy flowers and garden accessories from a variety of stalls on the Pavilion Lawn.
Group visits to the castle
There are a number of benefits on offer for groups visiting the castle including special entry rates, private guided tours and themed tours of the attraction.
For more information call 01622 767865 or email bookings@leeds-castle.co.uk