The King Richard III Visitor Centre in the city of Leicester has launched a new group talk, Feast and Festivities, which showcases food in the medieval period and the importance of it in celebrations.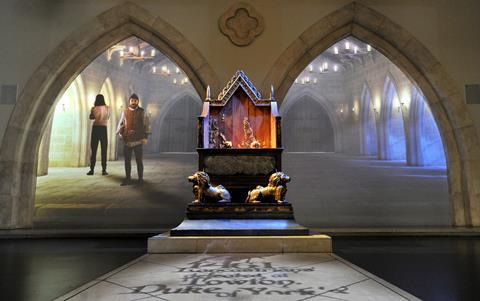 Visitors will be invited to explore more about what people ate during the reign of King Richard III, as well as the food that the king himself would have eaten. The talk will also trace links to foods which still have medieval influences today and the variation in diets between the rich and the poor of society in medieval times.
Also for groups
Feast and Festivities joins an existing programme of group talks which include:
The Wars of the Roses: this talk explores the conflict between the houses of York and Lancaster and the causes of the War of the Roses.
The King Under The Car Park: the focus of this talk is the Looking For Richard project – how Philippa Langley, a member of the Richard III Society, became involved in the Greyfriars dig of August 2012 and what the archaeologists found under the car park. Bone analysis, DNA and genealogy, injury analysis and carbon dating are also explored, concluding with an insight to the re-burial of Richard.
The Princes In The Tower: this talk examines the events that led to the disappearance of the king's two nephews; the main suspects, their motives and opportunity and what the likelihood was of any of them being responsible for the death of the princes. We also explore the other option, that one or more of the Princes escaped to live in secrecy.
About the Visitor Centre
Housed in a former Victorian grammar school building, the Visitor Centre stands on the site of the medieval friary of the Grey Friars, where King Richard III was buried over 500 years ago after his defeat by Henry Tudor at the Battle of Bosworth.
The exhibition – Dynasty, Death and Discovery – gives visitors the chance to learn more about the king's life and reveals one of the greatest archaeological detective stories ever told, including the first ever genome sequencing of ancient DNA. Visitors can also see the very place where King Richard III was hastily buried, now transformed and preserved under a glass floor.
The centre is situated next to Leicester Cathedral where King Richard III's remains were re-interred in March 2015.
The King Richard III Visitor Centre offers preferential rates for groups of 15 or more, as well as catering options, talks, tour packages and free familiarisation visits for group travel organisers. For more information visit www.kriii.com/groups or email groups@kriii.com.