The Twilight Zone will be transferring to the West End and will run an open-ended season at the Ambassadors Theatre from March 2019.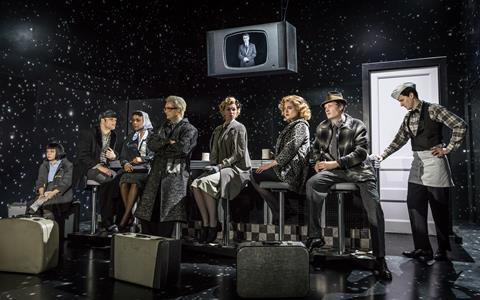 Opening on 4th March, the show, a stage adaptation of the classic CBS television series The Twilight Zone, features a 'mixture of morality tales, fables and fantasy that are as relevant today as when audiences first encountered them'.
Tickets for the play at the Ambassadors Theatre are now on sale, after a successful run at the Almeida Theatre.
About The Twilight Zone
The play invites audience members to 'enter another dimension, a dimension not only of sight and sound but of mind. A journey into a wondrous land of imagination. Next stop, The Twilight Zone.'
The Twilight Zone is based on original stories by Rod Serling, and two of the most frequent and celebrated contributors, Charles Beaumont and Richard Matheson from the CBS television series.
It is considered one of television's most revered and influential science-fiction fantasy shows and ran on American network CBS from 1959 to 1964, winning three Emmy Awards during its 156-episode run.
Its parables explore humanity's hopes, despairs, prides and prejudices. The programme has had a seminal influence on popular culture, from Stephen King to Lin-Manuel Miranda, Breaking Bad creator Vince Gilligan to Steven Spielberg, The Simpsons to Black Mirror.
The show has been adapted by Anne Washburn and is directed by Richard Jones.
Ron Fogelman, producer, said: "The impact the production had on the audience at the Almeida Theatre was wonderful, showing just how timeless these stories continue to be. Anne Washburn and Richard Jones have created a unique experience for the theatre that taps straight into the imagination."
For more information, visit www.twilightzonetheplay.com.