The coach company is among the first to resume trips, taking a group down to Torquay for a four-night break.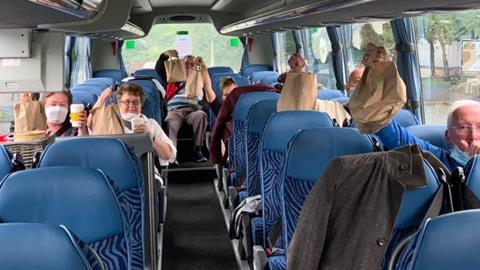 Although a smaller group of 11 passengers, the firm said the trip was a "great success" and an ideal opportunity to show the measures put in place to protect passengers and staff.
John Patterson, who organises trips for the Tuesday Club in Leamington Spa, was one of the passengers on the trip. He said: "It went very well, it was well organised, everybody had masks and there was plenty of hand sanitiser.
"There were a couple of boat trips during the break and we did some sightseeing. It was an enjoyable and relaxing experience."
Dunwood co-director Colin Duncan said: "We had to start somewhere and this was the way to do it. Hopefully in the coming weeks, we'll be able to increase the numbers slightly but we'll always maintain the social distancing needed."
The West-Midlands company, which usually carries 40,000 passengers on 1,200 trips a year, took the group from Coventry down to Torquay where they stayed at the TLH Toorak Hotel.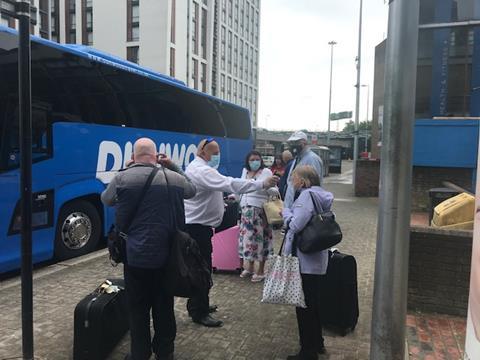 Operations manager Stuart Parker added: "The feedback from customers upon their return was excellent and pleasing to hear. Passengers commented that they felt very safe and nearly all of them have rebooked another break with Dunwood for later in the year."
The firm has invested in a number of additional safety measures including installing air purifiers on the coaches and ensuring that the seats are more than two metres apart.
Pick-up points are also arranged so that passengers won't have to walk past anybody else when boarding and the coaches are also sprayed every time people get off.
Colin continued: "In fact with everything we've put in place, it's probably safer to go on a Dunwood holiday than go shopping in Asda!"
He said that enquiries and bookings over the last few weeks had been phenomenal, adding: "We're hoping that we're on the verge on breaking records in terms of the number of bookings we took in one day. Next year is looking great too.
"Me and Phil Westwood (co-director) formed the business in 1994 and have had 26 very successful years of coach and group tour operating, then out of the blue comes Covid-19. It has been sheer bad luck for all industries and something very awful.
"There comes a point when you have to start making decisions. We have made a big investment into safety measures and we've put in a lot of work to ensure that our customers are well informed, and have been well informed throughout the pandemic.
"We're focussed on customer relations and that has been key, letting people know the truth as it stands. We've given people the option to get refunds from day one. People are calling to say that they want to try something in September and beyond. It's very busy and we're getting things moving."