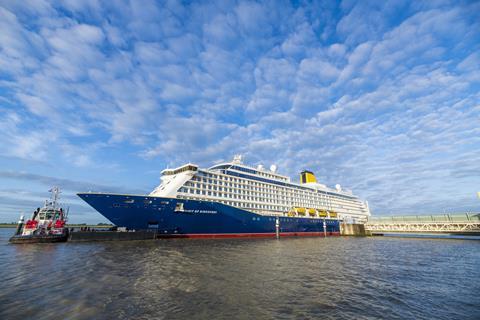 The naming ceremony will take place in Dover, Kent on 5th July with the new ship being the first to be named at the Port of Dover for over a decade.
HRH will be given a tour of the new ship before the naming ceremony commences on the day.
Lance Batchelor, group chief executive officer of Saga, said: "I am delighted that The Duchess of Cornwall has agreed to be Godmother of the Spirit of Discovery. The launch of our new ship is a key moment in both the history and future of Saga.
"Carrying fewer than 1,000 passengers, she is a boutique ship that offers our customers and members the highest standards of accommodation, furnishings, cuisine and entertainment. I am immensely proud of what we have created with shipyard Meyer Werft."
About the ship
The new ship measures in at 774.3ft in length and displays more than 400 pieces of original British artwork, amongst the 1,000 artworks on board.
It has a maximum capacity of 999 passengers, and will travel to a number of destinations across the world including the Canaries, the Caribbean and USA.
Each cabin comes with its own private balcony, meaning every passenger can enjoy ocean views without leaving their bedroom.
Its inaugural cruise, the 13-night A British First, begins on 10th July sailing from Dover.
The Silver Line
The Duchess of Cornwall and Saga both support The Silver Line, a charity set up by TV presenter Dame Esther Rantzen after she experienced loneliness following the death of her husband.
The newly appointed Godmother is a patron of the charity sharing a link with Saga, as the travel operator's first national charity partner.
Sophie Andrews, chief executive officer of The Silver Line, said: "Our team is absolutely delighted to see this coming together of our Patron and our charity partner, Saga.
"The Silver Line helpline receives more than 10,500 calls every week from vulnerable and isolated older people, many of whom have nowhere else to turn which demonstrates the depth of loneliness felt by huge numbers of the UK's older population."
For group enquiries about trips with Saga Cruises, you can call its group travel team on 0800 300 666, or visit www.saga.co.uk/groups.