Saga's newest cruise ship, Spirit of Discovery, was unveiled for the first time on Sunday (12th May), floating out of the Building Hall at Meyer Werft Shipyard in Papenburg, Germany.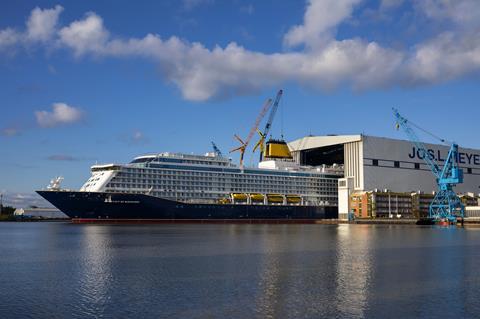 The custom-built, British cruise ship will begin sea trials in early June before making its way to the UK where it will be formally named in Dover on 5th July.
Measuring 774.3ft in length, Saga's first purpose-built cruise ship is the first of two new passenger ships being constructed at Meyer Werft shipyard in Germany.
Its sister ship, Spirit of Adventure is planned to enter service in 2020.
With a maximum capacity of 999 guests, Spirit of Discovery will sail to numerous destinations across Europe.
Groups can now book their place onto one of its many itineraries taking place throughout next year, including trips to the Canary Islands and Scandanavia.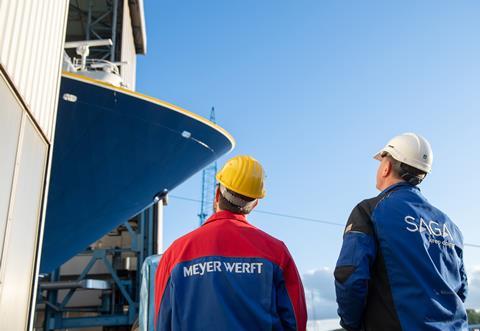 Saga offers one free place for every ten passengers booked, with no upper limit to the group size.
Nigel Blanks, chief operating officer, Saga Cruises said: "This is a major milestone for Saga Cruises and for the future of the company.
"Spirit of Discovery has been meticulously designed for our customers and to epitomise Saga's unique British boutique cruising concept."
Classically British
The cruise ship was designed and created by UK-based agency SMC
More than 400 pieces of original British artwork can be found amongst the 1,000 artworks on board.
A range of independent British suppliers will serve their products to guests on the ship, including Hush Heath wine of Kent.
Mr Blanks added: "We'd like to thank everyone at Meyer Werft, and look forward to the keel laying of Spirit of Adventure, on 3rd June, as we start the construction of our next ship for the British market."
For group enquiries about trips on Saga Cruises, you can call its group travel team on 0800 300 666, or visit www.saga.co.uk/groups.