The Natural History Museum's famous diplodocus skeleton is currently on a tour of the UK and is heading to Birmingham where groups can arrange dining packages at the Birmingham Museum & Art Gallery.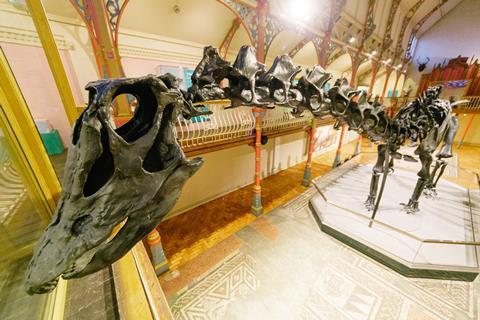 The exhibition will be visiting Birmingham Museum & Art Gallery from 26th May and will stay there until 9th September, when it will head to its next destination, the Ulster Museum.
The Birmingham Museum has recently announced that it will be offering coinciding dining packages which are available for groups of up to 100.
The packages are divided into two types: Shared Dinner Parties, and an Exclusive Drink and Dine Package. They can be booked here.
Shared Dinner Parties
The Shared Dinner Parties are available on 7th and 14th June and can be booked for a minimum of ten people.
Suited for smaller groups, this package allows you to network with others enjoying the experience, as well as time to view the displays and a three-course dinner.
The Exclusive Drink and Dine Package
This option gives groups a choice of two experiences, the Jurassic and the Cretaceous, which include different menus, but both include private hire of the room.
The Jurassic package includes drinks, canapes and of course time to view the exhibition. The Cretaceous package involves the above plus a three-course dinner.
The Exclusive packages, which can be arranged at any time between the exhibition's opening and its closing on 9th September, allow for between 50 and 100 guests.
Tour dates for 'Dippy on Tour'
• Birmingham Museum and Art Gallery: 26th May – 9th September
• Ulster Museum: 28th September 2018 – 6th January
• Kelvingrove Art Gallery and Museum, Glasgow: 22nd January – 5th May
• Great North Museum: Hancock, Newcastle upon Tyne: 18th May – 6th October
• National Museum Cardiff: 19th October 2019 – 26th January 2020
• Number One Riverside, Rochdale: 10th February – 28th June 2020
• Norwich Cathedral: 11th July – 31st October 2020
For more information, visit www.nhm.ac.uk.
Lead image: Dippy at the Dorset County Museum (photo credit: The Trustees of the Natural History Museum, London)