Tickets for André Rieu's 2023 UK tour have gone on sale, with group organisers able to book coach breaks to see the Dutch violinist and his 60-piece Johann Strauss Orchestra next spring.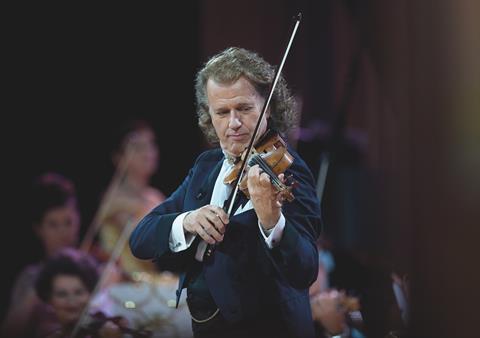 To ensure group organisers can be at the forefront of capturing demand, the JG Travel Group has launched these coach breaks for concerts in Birmingham and Liverpool next spring.
Due to the demand seen for Rieu's 2022 touring dates, capacity has been increased by 25% next year, meaning groups can book tickets and travel for a night of classical music.
The André Rieu & his Johann Strauss Orchestra package includes return coach travel, one night's B&B accommodation and a ticket to the concert, plus return coach transfers from the accommodation to the venue. There are a number of pick up points all around England for GTOs to make use of.
The offer is available for two concerts on the tour: the first at Resorts World Arena Birmingham on Saturday 15th April 2023, and the second at M&A Bank Arena Liverpool on Saturday 12th May 2023.
Julie Wilson, groups manager at the JG Travel Group, said: "André Rieu is our top selling product and I have no doubt his new tour for 2023 will be hugely popular.
"This year we took several thousand people to his Birmingham and Liverpool concerts which sold out many, many months in advance, and we even added a Wembley date to ensure we could continue to take bookings."
Having sold more than 40 million CDs and DVDs worldwide, André Reiu's repertoire includes romantic, emotional ballads, as well as waltzes.
He has been awarded more than 500 Platinum awards plus 270 Gold awards for his success and has made UK chart history by having the highest charting classical album this century.
For more information about the package, visit www.justgoholidays.com or call the groups department on 01242 267974.