The Lion Salt Works, Cheshire's industrial heritage museum, has launched two new tours for groups to learn about the county's link to cheese and how it is manufactured.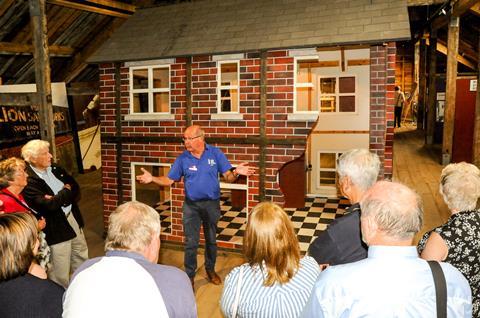 Based in Northwich, groups will tour the museum before taking part in two additional pre-paid talks, explaining either the area's strong links to cheese or the making process.
The cheese talks will be given by Daniel Williams, a fifth-generation member of Godfrey C Williams Son - a traditional family-run grocer in Sandbach, Cheshire. Cheese is one of the store's specialities offering around 200 varieties.
Both talks come with the opportunity to sample and buy cheese, with each one covering the different types produced in the county and how it is graded and matured. The talk on cheese-making also includes replica equipment and a demonstration.
Councillor Louise Gittins, leader of the council and cabinet member for wellbeing at Cheshire West and Chester Council, said: "Following the museum's successful CheeseFEAST Festival last year, we know that people are fascinated by the process that turns milk into cheese and how their favourite cheeses are produced.
"We look forward to greeting our first group tour visitors for these new and imaginative cheese talks."
Information for groups
The talks are combined with a tour of the Lion Salt Works museum, which tells the story of salt through interactive displays as well as a sound and light show, automaton and 'subsiding house'.
Group tours of the Museum can be self-guided (£5.30 per person) or guided (£8.50 per person). For a minimum group size of 40, the Cheshire Cheese talk costs an additional £2 per person; the cheese-making talk and demonstration £2.50 per person.
There is free coach parking and visitors can be dropped off near the museum entrance. All group tours include a free on-bus talk and free coffee for drivers. Group refreshments are available too.
The Lion Salt Works Museum is the last open-pan salt-making site in Cheshire and one of the last in the world. It was restored in 2015 after a £10 million, four-year restoration project. For more information about group visits to the museum, visit lionsaltworks.westcheshiremuseums.co.uk.