The country house in Lincolnshire will host a series of special events and exhibitions throughout the year to commemorate the 500th anniversary of England's first chief spymaster, William Cecil.
Burghley House, which was built and mostly designed by Cecil in Stamford between 1555 and 1587, is set to display rare items together for the first time in a new exhibition - including his personal atlas complete with hand coloured maps and handwritten notes.
As well as this, visiting groups can expect a series of expert-led lectures, a Shakespearean play performed in the garden and another exhibition.
There will also be national celebrations staged in June with a service in Westminster Abbey, where his funeral was held in 1598 before he was buried in St Martin's Church in Stamford, which will host a service in September.
More information
The Age of William Cecil, Builder of Burghley exhibition not only features his personal atlas but also a Chinese silver-mounted porcelain bowl presented by Queen Elizabeth I and the earliest known plan of a London house and garden - Cecil House on the Strand.
Also new for 2020 will be a time-line exhibition in the House entrance, detailing Cecil's life and achievements, not only revealing the huge influence he had on life in 16th century England, but also his skills as a designer and builder.
Special guest lecturers including David Starkey, Lesley Smith and Professor Stephen Alford will focus on the life, times and legacy of Cecil.
The house and gardens re-open on 14th March until 1st November.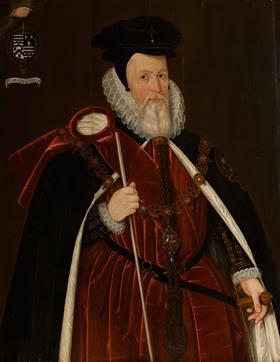 About William Cecil
William Cecil was one of Elizabethan England's most powerful figures, not only acting as a spymaster but also as Queen Elizabeth I's most trusted minister.
He was born at Bourne, near Stamford, on 13th September 1520 - helped shape British history and was not only just Elizabeth I's chief intelligence gatherer, but was also involved in everything from diplomacy and exploration to education and gardening.
For full details of opening times, all events and to book tickets, visit www.burghley.co.uk.