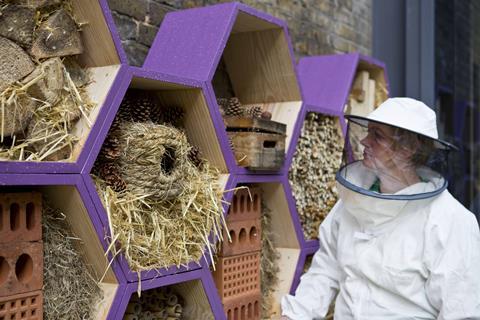 The St Ermin's Hotel in Westminster, which is home to over 350,000 buckfast honeybees, will hold a series of taster urban beekeeping workshops this summer.
The workshops, running on selected dates, are also available for groups to book privately throughout the year. Prices are based on maximum numbers of around 12 people, however packages can be put together according to the needs of the group.
Discover how to look after bees
Each session will be led by beekeeper Camilla Goddard of hive maintenance company, Capital Bee, and will be held around the hotel's six hives.
The workshops, lasting two and half hours, will outline the complexities of bee society, and highlight the close relationship between bees and flowers.
Participants seeking to set up their own hives will learn what to plant, when and where and how best to site hives in gardens or allotments.
Each group will also visit London's first 'Bee & Bee' hotel on the third floor bee terrace to get real hands-on experience handling bees, managing their hives and collecting raw honey.
Camilla Goddard commented: "The St Ermin's six active hives are doing well again this year, producing on average 25lb of honey each year, helped by the fantastic range of flora in the surrounding royal gardens and parks. London's only Bee & Bee at the hotel is also doing well, providing a welcoming stopover for solitary bees and a host of other friendly creepy crawlies!"
During a visit groups will also get to see the Roof Kitchen Garden which features greenhouses and space to grow fresh, fruits, vegetables and herbs for use in the Hotel's signature restaurant.
Each workshop includes a honey cocktail at the Caxton Bar. Courses are £40 or £50 with afternoon tea. Full beekeeping suits are provided.
Make a group booking
Group travel organisers seeking further information and reservations should e-mail Gemma Wren on: gwren@sterminshotel.co.uk
For further information visit www.sterminshotel.co.uk.