Creators of Back to the Future The Musical have announced that the production will transfer to the Adelphi Theatre in London's West End following its initial opening in Manchester.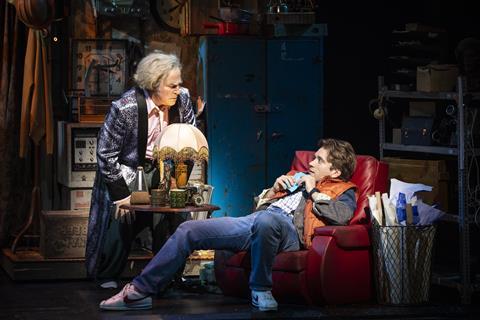 The show, which is produced by Colin Ingram (Ghost - The Musical) as well as Robert Zemeckis and Bob Gale (creators of the original Back to the Future film trilogy), will open at London's Adelphi Theatre from 14th May 2021.
Roger Bart and Olly Dobson will reprise the roles of Dr Emmett Brown and Marty McFly respectively, with Hugh Coles returning as George McFly, Rosanna Hyland as Lorraine Baines, Cedric Neal as Goldie Wilson, Aidan Cutler as Biff Tannen and Courtney-Mae Briggs as Jennifer Parker.
Groups of ten or more that book their tickets by the 11th January 2021 can make the most savings to certain performances when the show begins next May.
Further casting will be announced soon.
Bob Gale, one of the creators of Back to the Future, said: "Bob Zemeckis and I are over the moon to finally be opening Back to the Future The Musical in the West End at the historic Adelphi Theatre, and we can't wait for audiences to experience our show.
"I promise, everyone will be delighted with how we've translated the movie to the stage - we've got all your favourite songs from the movie, and over a dozen new ones, brought to life by an incredible cast, along with some groundbreaking stagecraft, which we firmly believe raises the bar for production design and illusion."
The new "standard of spectacle"
The production originally opened at the Manchester Opera House in March to critical acclaim.
Producer Colin Ingram, said: "The response we received from audiences and critics in Manchester for this show was incredible - men and women, young and old, film fans and newbies were all blown away by this heartening, hilarious story set to fantastic new songs, alongside the original classics from the movie.
"We made Hill Valley sing, dance and laugh and, as one audience member said, 'This is the new standard of spectacle, I feel like people are going to be talking about this for a long time.' When the West End reopens, we believe people will want to go back to the theatre, with Back to the Future."
Christopher Lloyd, the original Doc Brown from the film series, added: "I'm delighted that Back to the Future The Musical will be up and running in London in mid-May. I've heard nothing but great things about the show's run in Manchester, so I'm excited to finally see it for myself.
"I've already heard some of the new songs and met many of the cast members, particularly Roger Bart who plays Doc, so I'm confident the stage version will be exactly what our fans have been hoping for."