RHS Ambassador Alan Titchmarsh has opened the new Welcome building at RHS Garden Wisley with group travel organisers among the first visitors.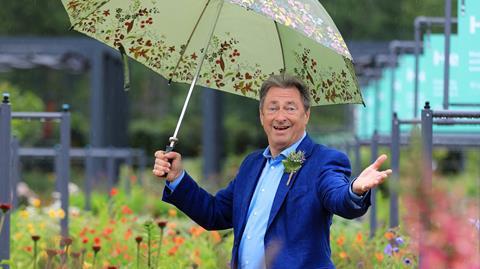 With a new welcome desk for groups and extensive coach parking, the new centre also features a much bigger garden centre with tens of thousands of plants and feature displays all-year round.
The Welcome building also includes improved facilities for visitors; a spacious arrivals hall, a 100-seater restaurant, bigger shops selling gardening and artisan products and a larger café. In addition, 250 native trees will be planted in and around the car-park and visitors will enter the 240-acre garden through an avenue of 100 cherry trees.
Gardener and presenter Alan Titchmarsh said: "Millions visit Wisley every year to be inspired by the horticulture on display and now the RHS flagship site will be a permanent showcase to celebrate specialist UK growers, just as it does at the RHS Chelsea Flower Show and its other world-famous events.
"These plant specialists lovingly grow the rarest, most unusual and beautiful varieties in the world, which thrive in UK gardens because they're so used to our climate."
Once inside the garden, visitors can explore several new areas. Namely, the 75-metre long Wisteria Walk, The Exotic Garden and Heather Landscape with ornamental grass borders.
A group travel organiser's review…
GTO Sylvia Saxon, chair of The New Meridian Association, was among the first visitors to get a sneak preview of the new additions - before they opened to the public.
She reports back on what she thought:
"Last week my friend Julie and I and some of our lovely members of The New Meridian Association had our first glance of RHS Garden Wisley's amazing multimillion pound revamp, it definitely had the wow factor.
"Our day started when Julie picked me up from home, only to notice in my front garden a rather long yellow flower which I was told in no uncertain terms is not a flower but a weed. I knew I would be very in for a very interesting day with my very green fingered friend.
"It proved to be a beautiful day at Wisley - I learned so much about all the wonderful plants, there was so much to see. As always the amazing Melissa Hackney welcomed us and explained the layout and where we should all meet later in the day for the preview of the Welcome Building. As the day passed we met with our members and we all had our photo taken with Melissa before entering.
"There was a speech from Andy Jasper – Programme Director for the project at RHS Wisley, who explained the garden will sell the largest number of rare and unique plants in the UK and also how, when groups arrive, they will have their own entrance not far from the coach park, with all the facilities one could wish for. Along with the new big bright restaurant with plenty of room and ideal for group lunches or evening meals, there are lots of special group catering packages on offer.
"The shop was full of new and exciting things, I didn't know where to start! Julie was the first customer to make a purchase, she immediately became a celebrity, received a big thank you from a very charming RHS director and of course there was the obligatory photo call. I must say, I truly enjoyed my day at Wisley, meeting Meridian friends, enjoying all this wonderful place has to offer and will be arranging my return with the group.
"These gardens really are something special and with all the future upgrades due next year in the second phase, when we will see the opening of the UK's first national centre for Horticultural Science and Learning. The final phase, due in 2021, will see the opening up of the historic laboratory to the public. The best thing I can say right now is give your group a treat and bring them to RHS Wisley, they will love it. My thanks go to everyone involved, great team effort and it's all there to see, without weeds!"