Full casting has been announced for the London debut of Life of Pi, opening at Wyndham's Theatre in November.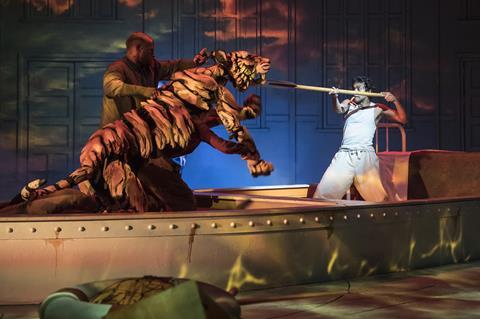 The production of Yann Martel's book, which first took to the stage in Sheffield, will open at the London venue for the first time on 15th November, with groups of ten or more able to save money on selected performances.
The theatre is being specially transformed to fully accommodate the different elements of the production.
Hiran Abeysekera will play the part of Pi following his successful run as the lead role in Sheffield.
He will be joined by Mina Anwar as Ma, Nicholas Khan as Father, Payal Mistry as Rani and Tom Espiner as both Father Martin and Commmander Grant-Jones.
Raj Ghatak will star as both Mamaji and Pandit-Ji, Syreeta Kumar will play the parts of Mrs Biology Kumar and Zaida Khan, plus David K.S. Tse will take to the stage as Mr Okamoto.
Kirsten Foster will play Lulu Chen, and Habib Nasib Nader will play The Cook, as well as the voice of the tiger puppet (pictured above).
Producer Simon Friend said: "I am delighted to announce the cast for this show – most of whom were in the original production in Sheffield, alongside some brilliant new cast members who have joined us on our journey.
"After an incredibly difficult year for so many people I hope this truly captivating production about how we deal with life's toughest challenges will particularly resonate with audiences."
About the show
After a cargo ship sinks in the middle of the Pacific Ocean, there are five survivors stranded on a single lifeboat – a hyena, a zebra, an orangutan, a 16-year-old boy (Pi) and a 450-pound Royal Bengal tiger.
Based on the book of the same name, Life of Pi is described as a theatrical adaptation of an 'epic journey of endurance and hope'.
The animals are brought to life by puppet & movement director Finn Caldwell, who began his career in the original company of the National Theatre's War Horse.
See what to expect below
About Hiran Abeysekera
Having trained at the Royal Academy of Dramatic Art, Hiran's other theatre credits include Botticelli in the Fire at Hampstead Theatre and Peter Pan at Regent's Park Open Air Theatre.
He has also appeared on television in Holby City, Find Me In Paris and A Midsummer Night's Dream.
Life of Pi is currently booking until 27th February 2022 and group rates apply for ten or more people on Monday, Wednesday and Thursday performances. For more information call 0844 482 5100 or visit www.lifeofpionstage.com.