Having stripped down to a bathing costume, there was no turning back. From majestic polar bears to bracing dips, a trip to the North Pole is breath-taking in every sense.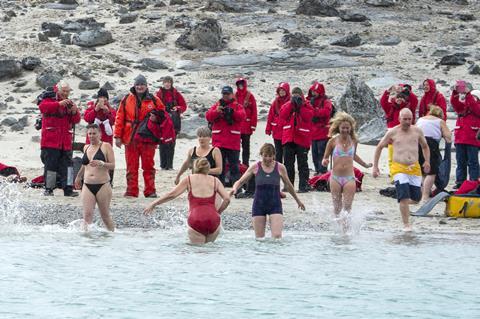 I am picking my way across the sand towards the glinting ice-blue water that lies ahead and starting to regret my boldness, fuelled by a couple of glasses of wine, the night before. Most of the other members of my group are standing around clad in thick jackets, thermal boots and woolly hats.
But having stripped down to my bathing costume there's no turning back and I join around 15 other passengers who are now running towards the glacial shoreline. Splashes, screams and laughter - in that order - follow as we take the ultimate invigorating dip. Ten minutes later I am back on board G Expedition and feeling suitably restored with a shot of a fiery and unidentifiable spirit. I have completed the 'polar plunge' challenge.
The day before, after a three-hour flight from Oslo, we had set sail from Spitsbergen, the largest and only permanently populated island of the Svalbard archipelago in northern Norway. With a population of just 2,000 drawn by the remote landscapes and vestiges of the coal mining industry established in 1906 by American John Longyear, the largest town of Longyearbyen is the gateway for unforgettable journeys deep into the 23,561 square mile archipelago first mentioned in Icelandic texts in 1194 as the "land of cold coasts".
For nine months of the year this is an unforgiving and virtually inaccessible land and seascape. Yet it is surprisingly rich in wildlife, flora and fauna, and when the ice flows recede in the summer months the ice-strengthened vessel G Expedition can penetrate into the heart of this amazing ecosystem. Long hours of daylight enhance wildlife spotting opportunities and it's not long before we sight our first 'king of the Arctic', and the world's largest land carnivore, padding along the shore. We see another eight polar bears during the week; members of the estimated 3,200-strong Barents Sea population.
Ensuing days are a mix of sailing - culminating with crunching through ice as we reach our furthest point just over 550 miles from the North Pole - and exciting Zodiac trips.
We pass cliffs jam-packed with nesting birds, walrus colonies basking in the sunshine and towering glaciers resembling turquoise dams.

Occasionally there is a thunderous roar as giant shards break away and crash into the water, a phenomenon known as calving, creating a rolling wave that rocks our inflatable boat.
Everywhere we go members of the ship's expedition team go too; imparting their encyclopaedic knowledge. One of my favourite new terms was learning that small pieces of ice that break away from glaciers are known as bergy bits. Whoever knew?
For GTOs concerned about members feeling cold there's no need to worry. Every passenger is given a heavy-duty expedition parka, which they get to keep, along with thermal gumboots for excursions. Additionally, a packing list ensures everyone brings suitable clothes, and the ship itself is snug and comfortable.
Of course, the polar plunge is optional. However, a week later I received an email with a detailed log charting our expedition and a personalised certificate stating: "This certifies that on a sudden crazy impulse, probably caused by an acute bout of polar madness" I had entered the Arctic Ocean at Svalbard's Magdalena Fjord.
It was one more lasting memory of a remarkable expedition into a unique and unforgettable environment in one of the furthest corners of the globe.
G Adventures offers a number of Arctic G Expedition Cruises. The ship, G Expedition, accommodates 134 passengers and has large public areas to enjoy during sea crossings and in between land excursions. For more information about this and other holidays from G Adventures you can visit www.gadventures.co.uk or call 0344 272 2060.