We all know that classic songs tell the emotional story of Jean Valjean in Les Misérables, but it's this touring production which really strikes a chord with audiences.
It's clear to see why Les Misérables has connected with audiences around the globe for so long. In three hours, this is a classic story that explores hope, grief in death and the excitement and pain of love through an array of hard hitting anthems that are instantly recognisable.
Comfortably sitting alongside the greats of modern theatre Les Mis presents us with life's most beautiful and darkest of moments - and this is a touring production that only reinforces the credentials of this much loved classic.
For those who don't know the story (where have you been?), Les Misérables is the powerful tale of Jean Valjean, a thief who turns good yet still spends his days on the run from Inspector Javert. He uses his new life to right the wrongs of his past, which includes taking care of Cosette, a young child who is left on her own because of his actions.
Set at a time of turmoil in France, talks of the revolution reach boiling point when Enjolras is introduced, and an older Jean Valjean turns his attention to protecting Cosette's love interest Marius when civil war breaks out. It all sounds very confusing but I promise it's not hard to keep up. But if you do get lost, you'll still have its iconic score to appreciate.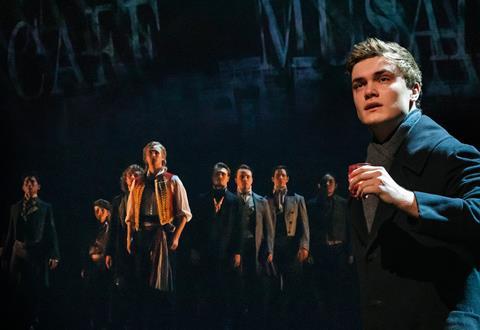 Highlights are hard to pin point with classic musical numbers around every corner, but rest assured all of them are delivered perfectly. Katie Hall's I Dreamed a Dream is stunning, sharing her character's insufferable pain of hopelessness, Natania Ong's heartwrenching On My Own tells Éponine's story of unrequited love, and Ian Hughes' Thénardier is incredibly charismatic in Master of the House, with its amusing routines.
Love theatre? Want to be the first to know?
Get our free 'Theatreland Spotlight' email newsletter to receive theatre news, cast information, reviews, interviews and what's best for groups, sent to your inbox.
Find out how

Luke McCall, who played Jean Valjean for the performance I attended, is to date the youngest ever person to play the part in the West End and as you'd expect, he's flawless. His range is incredible, from angrily sharing Jean Valjean's frustration in his opening soliloquy, to delicately revealing his concerns in Bring Him Home – it was not hard to notice the sound of sniffles around me.
McCall is matched in class by Nic Greenshields as Javert, an imposing fellow whose authoritative nature is felt with every syllable, especially in Stars – the character's emphatic plea to hunt down Jean Valjean. I won't spoil Javert's closing scene, but the staging is unbelievable, and something you must pay close attention to. When I caught up with Samuel Wyn-Morris, who plays Enjolras, he described it as "extraordinary". I can confirm, he is not wrong.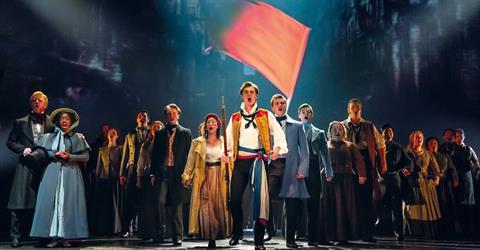 Talking of staging, the set is wonderful. The barricade possibly edges it as the most memorable piece of design, especially when gun fire opens up and we imagine bullets pinging off parts of the stage with flying sparks and strobe lights used to convey the chaos of war.
As the revolution begins, Do You Hear The People Sing? is the message of a brighter future, spearheaded by a passionate Enjolras. From both sides of the stage, two flat buildings close into one another, packed with loyal followers from balconies as the red flag of hope is waved.
It's quite emotional, which goes back to why the musical connects with so many. It's this overall feeling which gives you a gut feeling of pride – and no matter what's going on in the world and how bad it gets, you can't destroy hope. Maybe this story and this show is as relevant now as it ever was.
Either way, you're in for a hugely enjoyable night at the theatre, and the best part for groups is that you have got plenty of time to book tickets, with the tour closing in January 2023. It may be a long-standing fixture in London's West End, but what a treat for audiences across the country to have this quite wonderful production on tour. Go and see it.

With a love of journalism and travel, Harry enjoys writing about his experiences for GLT readers to use as inspiration. Brighton, Dublin and Amsterdam are among his favourite cities to visit and he enjoys delving into historical sites too – especially those linked to the Tudors and World War Two.