A group meal at 20 Stories is worth a visit to Manchester in itself, but it easily ties into a beefier itinerary, discovers Sarah Holt.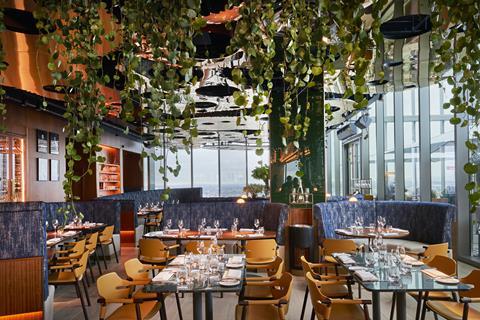 A wooden board topped with five different cuts of steak has been set down beside the table. Next to it stands Steven Connolly Bastock – 20 Stories' Meat Ambassador. He's explaining the difference between the steaks. But not in the way you might expect. He's not describing where the cuts come from on the cow or even how they might differ physically in term of leanness or fat content. Instead, he's describing the meat like a steak sommelier. He's talking about the ways in which a ribeye from a Hereford cow might taste a bit more – let's say nutty – than a rib eye from a Dexter or Aberdeen Angus.
Steven is just one of the ways that 20 Stories impresses. There's an A to Z of oomph at Manchester's newest restaurant, fronted by celebrity chef Aiden Byrne.
Starting at A there's the appearance. Perched on the 19th floor of a high rise in Spinningfields, the restaurant is wrapped in floor to ceiling windows that look out over the rooftops of Manchester. There's a sweeping terrace topped with heaters and firepits outside, but one of the best views is to be had in the toilets. The glass is so clear you feel like you could step out into the air above the city centre.
At B and C there's the beer and the cocktails. 20 Stories has been designed to subtly tell the stories of Manchester. One of the ways it does this is through the bar menu. On here you'll find options like locally brewed Tatton Ale and a MCR Champagne Cocktail – a tarty tasting flute's worth of Manchester-made Three Rivers Gin, vanilla and black cherry puree, fresh lemon and fizz.
At D there's the detail. Like the bread board that's engraved with the saying 'Manchester born and bread', the menu cover that's adorned with a gold leaf-style abstract map of Manchester, and the beer mats that each feature a quote hinting at one of Manchester's stories.
Fast-forwarding to M there's the menu. You can take your pick from fine dining dishes or a cheaper range of pub classics when you dine here.
The fine dining options include the likes of roast pigeon with cherries and violet mustard and duck liver parfait with Muscat grape chutney for starters, and wild turbot, peas, morels and cepes and poached herb fed chicken, asparagus and truffle for the main course.
Unlike at some fine dining restaurants, the portions aren't ration-worthy. The scallops, for example, are plump, bigger than the 50 pence piece servings you get at some eateries, and they are served in a trio rather than the oft-served pair. And if you order triple cooked chips with your steak you don't just get a mini Jenga stack of four or five fries, you get a heaped bowl full.
The pub menu, meanwhile, features cockle warmers like cottage pie and cod cheek and chips.
At W there's the wine. There are wines on the menu from everywhere from London to the Lebanon. You can buy a glass for £7 to £10, but if you want to push the boat out you can opt for something like the Corton Bressandes GC, Jaques Prieur, which costs £44 for a glass.
Of course, we've missed out the all-important G – groups. 20 Stories covets parties. Small groups can dine in the private 16-person dining room that's fronted by one of the restaurant's trademark panoramic windows. Larger parties up to 50 can book space in either the restaurant or the grill area – which serves the same menu as the restaurant but is a bit more lively. Really big groups, meanwhile can hire out the whole restaurant.
Make a day of it
The following attractions are within a 10-minute walk of 20 Stories.
Manchester Opera House: The programme at Manchester Opera House features everything from ballet and opera to comedy and fresh from the West End musicals. Group discounts are available on most shows and you can reserve tickets and pay later.
Manchester Art Gallery: This gallery hosts a regularly changing programme of exhibitions on everything from design to topics like Working Women. Groups can arrange introductory tours of the space and refreshment packages.
Manchester Science and Industry Museum: As well as permanent exhibitions on steam power, air and space, the industrial revolution and textiles, Manchester Science and Industry Museum puts on a range of temporary exhibitions on topics like Tim Peake's space mission. Groups can book experiences like engine demonstrations and reserve space in a picnic area for packed lunches.