To celebrate Afternoon Tea week, here are some of the tastiest places to go with your members all year-round.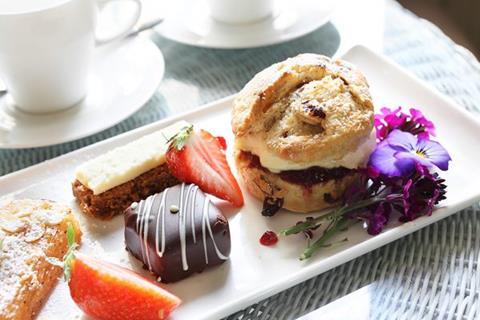 1. Harewood House
There can be nothing more pleasurably indulgent than enjoying afternoon tea in a beautiful English country house setting.
This year, Harewood in Yorkshire has opened the Billiard Room for just that, giving group visitors a new experience, allowing them to enjoy a selection of delicate finger sandwiches, home-made scones, cakes and sweet treats – brought together of course by a pot of tea or coffee.
2. French Brothers
New this year, French Brothers now offers an intimate dining experience with ever changing scenery. Available from Windsor, Runnymede or Maidenhead, the 'Tea Room Experience' is the ideal cruise for groups looking for a traditional afternoon tea on the river.
Sit back on a fully equipped modern vessel, taking in the views from the upper deck before dining in style in the comfortable lower saloon. Enjoy a glass of something special from the bar as you are served afternoon tea on china complete with three-tier cake stands full of delights.
3. Royal Horticultural Society
Afternoon teas are a treat at whichever RHS garden you visit, from a Garden Cream tea at RHS Garden Rosemoor in Devon - for an added twist try a Prosecco Cream Tea - to the famous Bettys Tea Rooms at RHS Garden Harlow Carr in Yorkshire. Enjoy home-made cakes at RHS Garden Wisley in Surrey and Hyde Hall in Essex or for an added treat, you can pre-book to eat al fresco in a special spot in the garden. For afternoon tea with all the trimmings try a Garden Afternoon Tea featuring ingredients sourced from the gardens, with finger sandwiches and a selection of cakes and delicious teas.
4. Stoke Park
The luxury hotel in Buckinghamshire has just launched its Gin & Afternoon Tea experience. With the 'perfect' G&T served in a specially designed teapot and a selection of home-made scones and Eccles cakes, guests will get to sample Gin-cured Smoked Salmon and 'Gin' Prawn Marie Rose. You'll also indulge in exquisite cakes and pastries including award-winning executive chef Chris Wheeler's Lemon, Lime and Gin Curd fruit tart.
5. Houses of Parliament
What better way to end a visit to this unique building than the addition of a stylish afternoon tea? Served in the elegant surroundings of the House of Commons with views along the River Thames, Parliament's chefs have created a seasonal menu combining tradition with a modern twist.
Up to 70 people can be accommodated per sitting. Tours and Afternoon Teas are available on Saturdays throughout the year and most weekdays during parliamentary recesses.
6. B-Bakery
B Bakery's Afternoon Tea Bus Tour is designed for both Afternoon Tea enthusiasts and also those who would like to immerse themselves in the great British culture.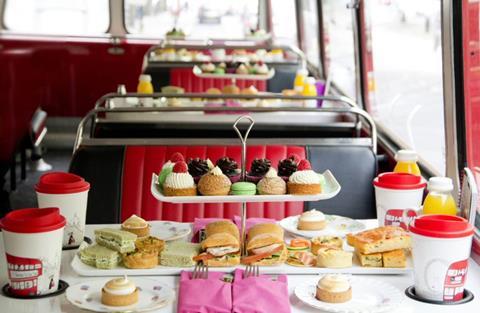 Explore London with a guided Afternoon Tea Bus Tour whilst partaking in afternoon tea and delicacies, enjoying the exquisite tastes of France.
The guided tour lasts approximately one and a half hours visiting cultural landmarks and history on an original 1960's Routemaster bus such as Buckingham Palace, The Houses of Parliament, Westminster Abbey, St James's Park, The Royal Albert Hall, and Downing Street, among others.
7. National Space Centre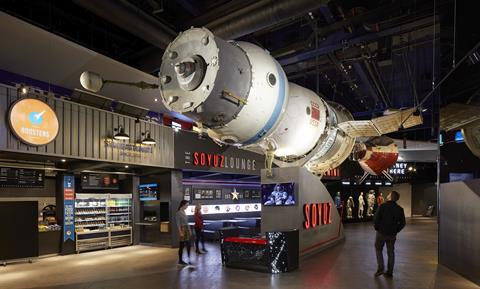 A unique venue to enjoy an afternoon tea, how many places can you sit under giant rockets and watch Neil Armstong step onto the surface of the moon? A choice of home-made cakes, locally roasted coffee and fresh artisan teas make this the ideal break from exploring the galleries, Rocket Tower and UK's largest planetarium.
The team at the centre in Leicester can cater for specific dietary requirements (when booked in advance). With galleries to explore, lots of hands on activities, the iconic Rocket Tower, large coach park, café, gift shop and the UK's largest planetarium, there is plenty to create a full or half day package everybody can enjoy.
8. Blenheim Palace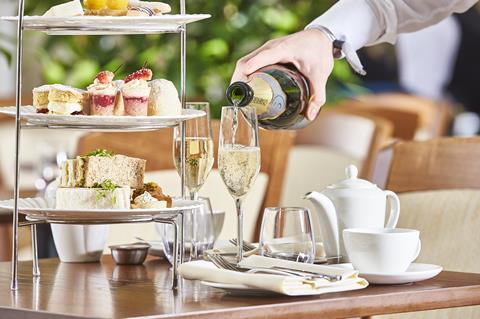 Blenheim Palace has a variety of cafés and restaurants on site serving everything from informal coffee and cake to luxury afternoon teas, three-course lunches and more. Every delectable dish is made in house using fresh, locally sourced ingredients and with seasonal specials on offer each month, there is always something new to try.
The stunning Orangery with its high ceiling, chandeliers and huge arched windows, is open as a restaurant for visitors, serving brunch, lunch and Champagne Afternoon Tea.
9. Barbican Centre
Providing an idyllic oasis in the centre of the city, the Barbican Conservatory is bursting with lush and varied plant life and three indoor ponds. The Conservatory houses around 2,000 species of plants and trees and is open to the public on Sundays and Bank Holidays.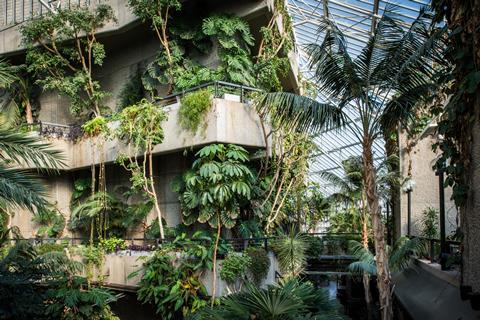 Visitors can also take in a unique afternoon tea during their visit with a selection of delectable handmade cakes and savouries each inspired by a fruit, flower or herb grown in the Conservatory. Groups larger than ten can book more than one table.
10. Kew Gardens

If you're looking for an Afternoon Tea with a view, look no further than The Botanical in Kew Gardens. With scenes of the Palm House across the pond, indulge in the mouth-watering selection of traditional and modern sandwiches (which feature seasonal ingredients foraged from within the garden walls, where possible), scones and cakes, with gluten-free and vegan options available on request. The wide choice of botanical teas offers a great accompaniment, as does a glass of something sparkling.