To celebrate Afternoon Tea week, here are some of the tastiest places to go with your members all year-round.
1. Harewood House
There can be nothing more pleasurably indulgent than enjoying afternoon tea in a beautiful English country house setting.
Groups can opt to dine in the Billiard Room (pictured above) or relax on the south facing Terrace. Members can enjoy a selection of delicate finger sandwiches (Nduja Devilled Egg Mayonnaise anyone?), home-made scones, cakes and sweet treats – brought together of course by a pot of tea or coffee, or treat yourselves to a glass of fizz.
2. French Brothers
French Brothers offers an intimate dining experience with ever changing scenery. Available from Windsor, Runnymede or Maidenhead, the 'Tea Room Experience' is the ideal cruise for groups looking for a traditional afternoon tea on the river.
Sit back on a fully equipped modern vessel, taking in the views from the upper deck before dining in style in the comfortable lower saloon. Enjoy a glass of something special from the bar as you are served afternoon tea on china complete with three-tier cake stands full of delights.
3. World of Wedgwood
Groups visiting Wedgwood in Staffordshire can book a signature Wedgwood Afternoon Tea which consists of freshly baked scones, finger-cut sandwiches and delicious fancies, served upon the finest Wedgwood bone china of course.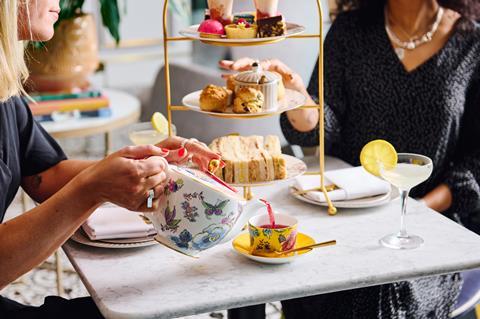 Special discounted admission rates for groups are available along with group dining packages and cream tea or refreshments on arrival.
4. Royal Horticultural Society
Afternoon teas are a treat at whichever RHS garden you visit. For an added twist, why not try the Festival Fun afternoon tea served at Rosemoor's Garden Kitchen Restaurant or treat your group to the famous Bettys Tea Rooms at RHS Garden Harlow Carr in Yorkshire.
If you're heading to RHS Garden Wisley, enjoy traditional sandwiches, homemade scones and more at Wisley's Terrace Restaurant, with a choice of indoor or outdoor seating.
5. Bletchley Park
What better way to experience the home of the World War Two code breakers than with the addition of a stylish afternoon tea? Served in the glorious surroundings of the Victorian mansion, which used to be one of the most secret places in Britain, groups can enjoy finely cut sandwiches, freshly baked scones and a selection of delicate, home made, sweet delights.
Group catering is only available on Tuesdays, Wednesdays and Thursdays, seating a minimum of 25 people. The attraction can cater for a maximum of 50 people.
Where's your favourite place for afternoon tea? We'd love to know, please comment at the bottom of the story.
6. Brigit's Bakery
Brigit's Bakery's Afternoon Tea Bus Tour is designed for both Afternoon Tea enthusiasts and also those who would like to immerse themselves in the great British culture.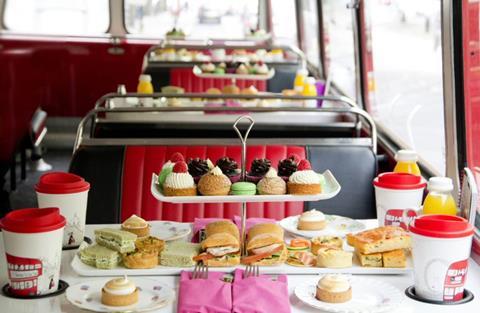 Your group can indulge in artisan High Tea menus while exploring Central London aboard their vintage double decker bus, thanks to French founders Philippe and Cedric Bloch. There are a host of themed experiences to choose from including Gin and even Peppa Pig Afternoon Tea Tours - something for all ages.
7. The Wizard Exploratorium®
This London experience is certainly Afternoon Tea with a twist. Groups are invited to step into the imagined worlds of their childhood at the Exploratorium in Soho to brew their own tea, magic wands in hand.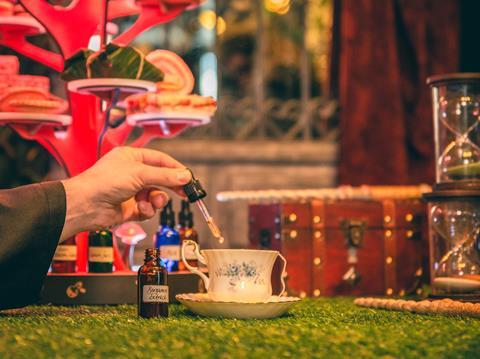 Your Afternoon Tea will include a scone and a selection of "sand-witches" and desserts. These may be things you've never tried or even heard of before - the team say they have 'baked molecular gastronomy into this other-worldly tea experience'.
8. Kew Gardens
If you're looking for an Afternoon Tea with a view, look no further than The Botanical Brasserie in Kew Gardens. With scenes of the Palm House across the pond, indulge in the mouth-watering selection of traditional and modern sandwiches, scones and cakes, with gluten-free and vegan options available on request. The choice of teas offers a great accompaniment, as does a glass of something sparkling.
9. National Space Centre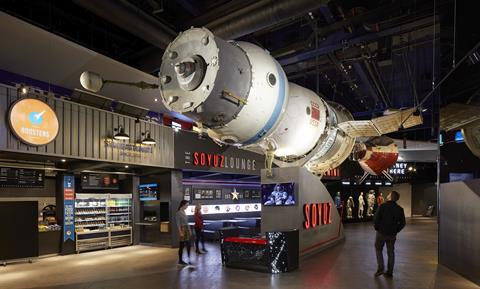 A unique venue to enjoy an afternoon tea, how many places can you sit under giant rockets and watch Neil Armstrong step onto the surface of the moon? A choice of home-made cakes, locally roasted coffee and fresh artisan teas make this the ideal break from exploring the galleries, Rocket Tower and UK's largest planetarium.
The team at the centre in Leicester can cater for specific dietary requirements (when booked in advance). With galleries to explore, lots of hands on activities, the iconic Rocket Tower, large coach park, café, gift shop and the UK's largest planetarium, there is plenty to create a full or half day package everybody can enjoy.
10. Blenheim Palace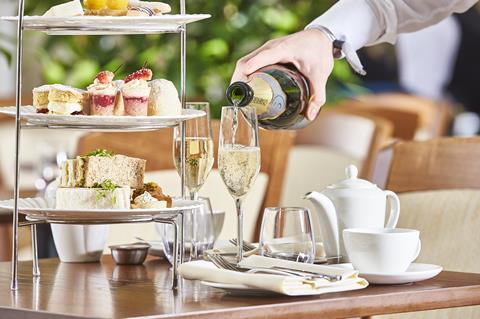 Blenheim Palace has a variety of cafés and restaurants on site serving everything from informal coffee and cake to luxury afternoon teas, three-course lunches and more. Every delectable dish is made in house using fresh, locally sourced ingredients and with seasonal specials on offer each month, there is always something new to try.
The stunning Orangery with its high ceiling, chandeliers and huge arched windows, is open as a restaurant for visitors, serving brunch, lunch and Champagne Afternoon Tea.