GLT reports back from a Reader Club trip which came complete with an impressive Gothic house, the world's largest Victorian glasshouse, and plenty of sunshine.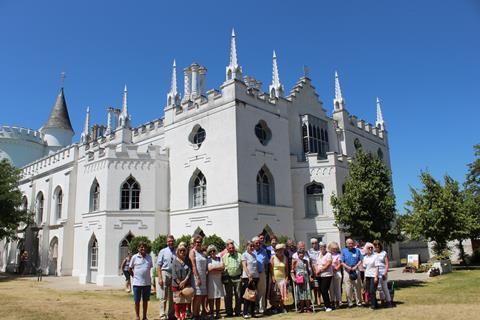 Strawberry Hill House and the Royal Botanic Gardens Kew were on the agenda for Group Leisure & Travel readers on this June familiarisation trip. Organised with Visit Richmond, the day proved highly interesting with a mix of historic and horticultural highlights wowing all of those who attended.
Architectural dreams
A glimpse into the history of Strawberry Hill House was the first treat of the trip, with attendees welcomed with tea, coffee and biscuits and an introduction to the fascinating home.
We were split into two parties to take a guided tour of the house, which groups can replicate on their own visit. As well as a general tour, there are guided experiences that can be themed around the painted glass windows that decorate the house; the landscape outside, taking in the gardens; and the house at twilight with an exclusive out-of-hours experience.
"The chance to review everything from catering to coach parking to venue facilities proved very successful – a very big thank you for this invaluable introduction to two great venues on such a glorious day. Plans are already in place for an event where our own guests can enjoy an unrivalled day out such as we did."

Judith and Geoff Allen, Travallen Travel & Events
The house tour we were taken on showcased many highlights, both inside and out. Even if you've never been to Strawberry Hill, you might recognise the house for its distinctive white Gothic architecture – it's a dream for photographers of all abilities.
And inside, the wonder doesn't cease. The house was bought in 1747 by Horace Walpole, a pivotal figure in 18th century society, who transformed it into his vision of a 'little Gothic castle'. The building is quite deceiving from the outside; exploring the rooms takes you from mysterious dark to light spaces and through passages into little hidden rooms that you wouldn't guess were there.
It is, as one of our guides Carole Tucker explained, a true serendipity (a phrase unsurprisingly coined by Walpole himself). Highlights include the magnificent library, beautiful red gallery and an incredible gold frame with an unexpected twist.
"What a lovely day – I enjoyed every aspect of this trip, especially Strawberry Hill House, I absolutely plan to return with the group. We also hope to enjoy Christmas at Kew this winter."

Jill Mann, Joan's Coach Outings
Top tip: Groups planning a visit should time it for Lost Treasures of Strawberry Hill, an exhibition running from 20th October to 24th February. It will showcase many of the artefacts that used to fill the house, many of them to be placed into original locations for this time period.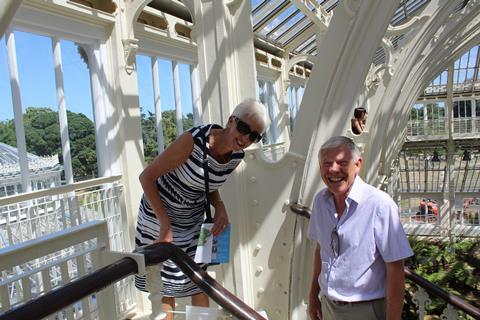 Kew at its most superb
From Strawberry Hill we travelled the short drive by coach to Kew to see the newly restored Temperate House. With many GLT readers excited to see the latest marvel, it was with great delight that we were all able to view it in its summer glory.
Said to be the world's largest Victorian glasshouse, this Grade I listed building is twice the size of the Palm House. It is home to an internationally important collection of temperate zone plants, including some of the rarest and most threatened. Note that it is hot in here – visiting on one of the warmest days of the year meant dividing time between exploring the plant beds and seeking out shade (and ice-cream) to cool down.
"The trip has been great – we've been to Kew Gardens several times in the past but you always see something different and today is no exception. Our favourite part is the Marianne North Gallery, the exhibition is incredible."

Roger Tacq, Huntingdon U3A
Nonetheless, it was just as staggering as we all hoped it would be, and free time to explore meant enjoying the rest of Kew's amazing features including the treetop walkway and The Hive sculpture. Groups are very welcome at Kew where discounted rates apply to parties of 15 or more people. Private guided walking tours are also worth booking for learning a bit extra about the gardens.
The Reader Club trip gave a great taste of Richmond and the surrounding area which, in addition to these two amazing landmarks, is also home to the house of painter JMW Turner, Marble Hill House, Ham House and Hampton Court Palace. With so much to do while you're there, it's no wonder that GLT readers left pledging to return in the future to explore the many treasures available.