Windermere Lake Cruises has announced extra incentives and packages for group travel organisers.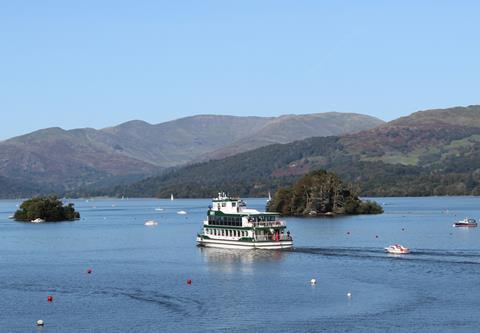 Extra incentives for pre-booked groups and their coach drivers are available at the Boatman's Café in Bowness. For passengers, these include 10% discount vouchers to use in the café and gift shop, along with new menus, table service and toilets.
For drivers and group guides, the attraction offers free parking, group rates, a voucher for refreshments and the opportunity to buy local gifts at a reduced rate.
In-line with government advice, new procedures are in-place at Windermere Lake Cruises which means all coaches must be pre-booked, with coach parking available exclusively to parties who have booked a cruise.
Covid-secure measures also mean all passengers must be pre-booked onto their preferred sailing due to onboard seat allocation plans to ensure social-distancing is adhered to for those not part of the same household or support bubble.
Jennifer Cormack, Windermere Lake Cruises' sales & marketing director, said: "Our goal is simply to make sure that all our passengers can enjoy a cruise on Lake Windermere during the Covid-19 pandemic, whilst following government guidelines for the safety of our visitors and staff.
"We have made changes to our timetables and seating allocations on board to enable us to control the number of passengers onboard. We have new cleaning procedures in place, hand sanitisation stations both on board and prior to boarding, and we politely remind all operators and passengers to ensure face coverings are worn on board."
Group packages
Windermere Lake Cruises is also continuing to work with local attractions including sister-attraction the Lakeland Motor Museum to offer packages such as the 'Transport Trio', which includes entry to the Lakeland Motor Museum, sailing with Windermere Lake Cruises and a journey on the Lakeside and Haverthwaite Railway.
Among Windermere Lake Cruises' regular tour operators to book the Transport Trio package is Crusader Holidays. Speaking about the package, product manager for Crusader Holidays, Gillian Kretzschmar, said: "In the spirit of optimism and positivity, we're delighted to be working with Windermere Lake Cruises as the wheels of travel very slowly begin to turn again.
"Crusader Holidays and Windermere Lake Cruises set the bar high for ensuring Covid-19 safety measures and procedures keep our mutual customers safe and secure whilst delivering memorable holiday experiences.
"Windermere Lake Cruises recognises that coach holiday passengers are made up of socially distanced couples and individuals and we hope that many other attractions will consider 'groups' in the same way until such times as we all get back to normal."

Gillian Kretzschmar, product manager for Crusader Holidays
Jennifer Cormack added: "We're really excited to be in a position to welcome our valued group travel and coach parties back, and by working with other award-winning family attractions dotted around the lake, we can make sure a visit to The Lake District in Cumbria will be a memorable one for everyone."
Windermere Lake Cruises also offers an exclusive one-hour circular cruise for family groups or groups of six in a social bubble. More information is available here.
Further details and full information on Windermere Lake Cruises' Covid-secure operating procedures can be found here.