The full cast for What's In A Name? has been announced, with four new faces joining The Inbetweeners actor Joe Thomas on the UK run which begins in September.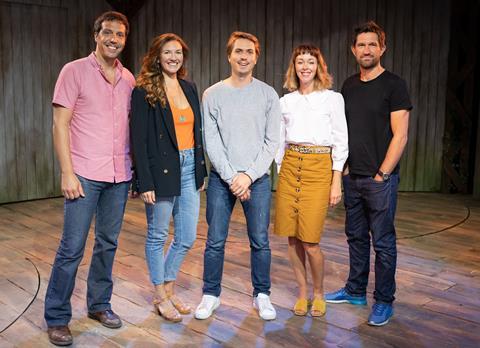 The comedy will star Bo Poraj as Peter, Laura Patch as Elizabeth, Summer Strallen as Anna and Alex Gaumond as Carl.
The role of Vincent will be played by Joe Thomas, who also starred in Channel 4's Fresh Meat.

What's In A Name? is a stage adaptation of the French film and show Le Prènom by Matthew Delaporte and Alexandre de La Patellière, following an evening's events at an awkward dinner party.
It will begin its run at Guildford's Yvonne Arnaud Theatre on 5th September, playing in Glasgow, York, Aylesbury, Cambridge, Windsor, Richmond and Southampton, ending on 23rd November.
More about the show
Father-to-be Vincent and his partner Anna are invited to dinner by his sister Elizabeth and her husband, Peter. They are joined by childhood friend Carl for a mature and sophisticated gathering.
But a startling revelation about the name chosen for Vincent and Anna's expected child becomes the catalyst for a destructive argument which spirals hysterically out of control.
No one holds back. Egos, childish resentment and unspoken feelings are relentlessly and hilariously exposed for the first time.
The production is directed by Jeremy Sams, who has been involved with numerous shows across the world, including The Wizard of Oz (West End and World Tour) and The Sound of Music (West End and Toronto).
More about the cast
As well as Joe Thomas' success on television, he also most recently appeared as Nick in the 2018 film The Festival.
Bo Poraj is best known for his role as Mike in the BBC comedy series Miranda. He played a regular role in Musketeers also on the BBC and featured in Blithe Spirit in the West End.

Laura Patch most recently starred in Ricky Gervais' Netflix series Afterlife and Summer Strallen has had leading roles in the West End in Top Hat, The Sound of Music and Chitty Chitty Bang Bang.
Alex Gaumond played Paul in Marianne Elliot's revival of Stephen Sondheim's Company in the West End.