The tour operator has six new itineraries on its latest river cruise ship, Victoria Mekong, taking passengers 'off the beaten track' in Asia.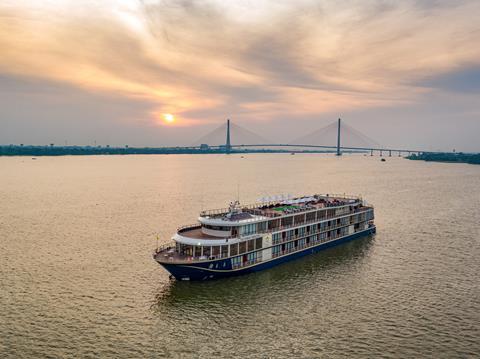 The unique cruise holidays will sail, for the first time, from the much quieter port at Can Tho Pier to Phnom Penh, avoiding the busier Mỹ Tho port.
The route also allows Victoria Mekong's passengers to experience more offshore excursions along the Mekong Delta.
Victoria Mekong made its inaugural sailing in December, consisting of a contemporary design with Asian-inspired interiors and exteriors, as well as an infinity pool, pool bar and a themed restaurant and lounge.
John Warr, global sales director for Wendy Wu Tours, said: "The ship has all the deluxe facilities of a five-star standard ship, with all cabins enjoying private balconies and air conditioning, all at the price of a four star cruise."
All tours featuring the Victoria Mekong include international flights from the UK, all accommodation, all meals (group tours only) or meals as stated (private tours only), transportation, touring with guide and entrance fees.
Itinerary highlights:
'A Mekong Experience' is a 14-day voyage which includes a sunset cruise on the moat of Angkor Thom plus a cyclo tour of Phnom Penh.
The 17-day 'Classic Mekong' trip factors in Tai Chi lessons on Halong Bay as well as an opportunity to learn ancient farming techniques in Hoi An.
Two longer group tours are now on offer; the 22-day 'Mekong Explorer' and 23-day 'Inspiring Indochina'. Both cruises include a cyclo tour of Hanoi's Old Quarter and a night at Cambodia's famous Phare Circus.
There are also two new private tours to choose from, the 12-day 'Mekong Impressions', which includes a visit to the Angkor Wat, as seen on BBC One's Sacred Wonders, and the 19-day 'Mekong Discovery', travelling through Cambodia and Vietnam.