It's part of a new tourism campaign, Cyclists Welcome, which has been inspired by the Women's Tour of Britain recently passing through the Forest of Dean as well as the upcoming Men's Tour of Britain heading to Gloucestershire.
Alongside the video, cycling groups can now download a guide showing the best routes as well as places to eat and stay in the area. There's a free PDF of all of the trails available in the Forest of Dean, Gloucestershire, Monmouthshire and Herefordshire.
Mark Terry-Lush, director of Forest of Dean and Wye Valley Tourism, the destination management organisation (DMO) for the area, said: "Some do it for the quiet, the freedom, the leisurely pedal. Others do it for the thrills, the speed, the jumps and drops. Cycling is one of the most popular activities in the Forest of Dean and Wye Valley and there are tracks and trails for all ages and abilities.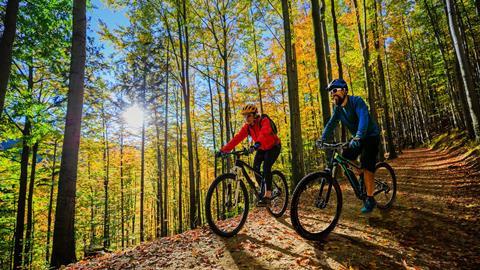 "When we found out the Women's Tour was coming though, it was too good an opportunity to miss. We reached out to our partner businesses and loads of them loved the idea of starring in a campaign targeting people who love to ride. We will use the video to target people planning to come to the county to watch the Men's Tour in September - try and attract them to spend a day or longer here before or after the Tour rides through."
Groups can select a route based on ability ranging from 'easy' for beginners to 'severe' which is suitable for expert mountain bikers. There are also 'Skills Loops' created to help cyclists develop off-road skills and get a feel for their bikes.
For groups with younger members and families, there's a circular nine-mile Forest of Dean Family Cycle Trail, created for all ages. Organisers can also find out where to hire bikes from as well as providers of guided cycle tours of the Wye Valley.