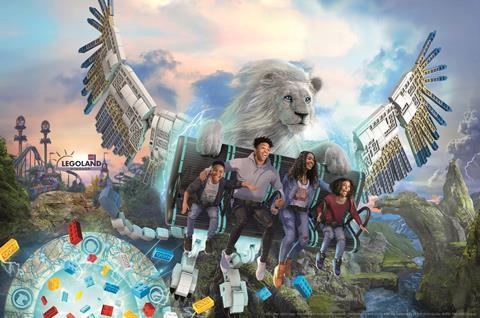 Standing at more than 25 metres tall, the Flight of the Sky Lion will be at the heart of the new themed land which marks the park's single biggest investment since the gates opened 25 years ago.
Once aboard the flying theatre ride, LEGOLAND® has said that people will quite literally be taken under the Sky Lion's wing and transported to the parallel universe of LEGO® MYTHICA, where the creatures from the new land come to life.
Riders will swoop, duck and dive over the landscape of the parallel universe and will meet many of its characters along the way, including the two-headed Hydra (Duo), Fire and Ice Bird (Crystal Flame) and the Greek mythology inspired Chimera creature.
Helen Bull, divisional director at the LEGOLAND® Windsor Resort, said: "We're thrilled to be bringing the first Flying Theatre ride to the UK and revealing all the rides and attractions which will make LEGO® MYTHICA: World of Mythical Creatures a must-do experience for families in 2021.
"The whole country has never needed escapism more than they do right now and we've worked closely with children and their families to make sure our new land delivers the thrills for everyone, whether it's their 25th visit to the park or their very first.
"Subject to Government guidelines, we're planning to open LEGO® MYTHICA on Saturday 29th May and tickets are on sale now to experience the country's first flying theatre as well as everything else the park has to offer."
What else is there to look forward to?
LEGO® Mythica will feature two drop towers standing at 13 metres tall named Fire and Ice Freefall, plus a new water attraction where participants steer their own vessel, called Hydra's Challenge.
There will also be 13 mythical creatures on display, made from more than 1.7 million bricks by a team of 15 master builders over the course of more than 8,500 hours. This includes a model of the Sky Lion, Maximus, made of 685,530 bricks and weighing more than 5,819 kilogrammes.
The 13 creature models will come to life through the screen of a smart phone when using the LEGOLAND® app.
Also set to feature in the new land will be the Creature Creation where guests can build their very own LEGO® MYTHICA creatures; an adventure play area called Lava Dragon Play; a character meet and greet experience, Creature Encounter and The Hungry Troll restaurant and Beastly Bites snack bar.
The Resort's existing 4D Cinema will feature a new LEGO® MYTHICA film which tells the story behind the mysteries of the parallel universe.