UK Parliament will reopen to the public for tours of the landmark building in Westminster, London.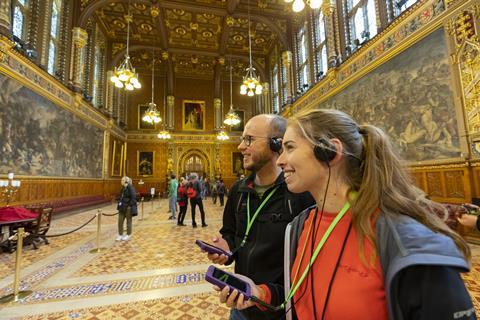 The multimedia tours will run from 28th July until 4th September on Wednesdays to Saturdays and will include access to the House of Commons and House of Lords chambers as well as the 900 year-old Westminster Hall, the oldest building on the Parliamentary estate.
Visiting groups will be invited into the heart of UK politics at their own pace using personal multimedia guides. Tours take around 90 minutes and will run every 15 minutes throughout the day at a reduced capacity of up to 25 people to allow for social distancing.
The tours are billed as "the perfect opportunity to get immersed in the history and heritage of UK Parliament". Highlights also include the ornate decor of the Royal Gallery, following in the footsteps of the Queen at the State Opening and walking through the medieval Westminster Hall with its connections to Guy Fawkes and King Charles I.
Westminster Hall
The Hall was built in 1097 under William II, the son of William the Conqueror, to impress his new subjects with his power and authority. It was the largest hall in England at the time – almost as long as four cricket pitches end-to-end.
The Hall is known for its great size and its magnificent roof and has played a central role in British history since the 11th century as the heart of the major institutions of the British state and the nation: Parliament, the law courts and various government offices.
Historical artefacts and collections
Parliament holds a number of historical collections which it commissions and holds. These include the House of Commons' collection of medals and coins, War Memorials to the First and Second World Wars and almost 11,000 pieces of historic furniture, clocks, silver and ceramics across the Parliamentary Estate.
UK Parliament was crowned 2019 winner of the Group Leisure & Travel Award for 'Best Guided Tour'.
Groups of 10 or more can benefit from the discounted rate of £17.50 (full ticket price £22). To book email groups@seetickets.com