The Rocky Horror Show will be returning for a 12-month UK tour opening later this year in Brighton.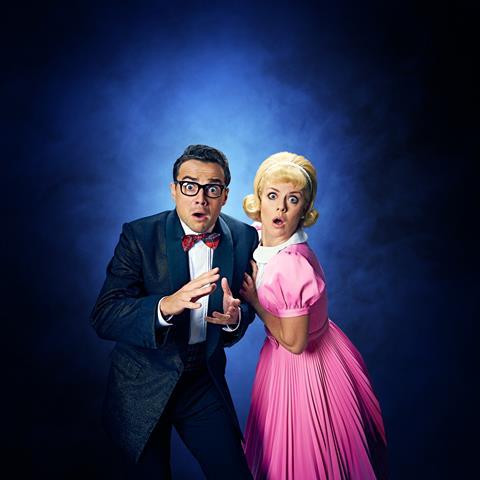 The musical, which first opened in London in 1973, will begin its venture at Theatre Royal in Brighton on 14th December before heading to an assortment of UK venues currently booking until November 2019.
The touring production will be starring Blue singer and Hollyoaks actor Duncan James and West End star Stephen Webb as Frank, Strictly Come Dancing Champion Joanne Clifton as Janet and a1's Ben Adams as Brad. Casting may differ on certain dates and venues.
Kristian Lavercombe will also be reprising his role as Riff Raff, following more than 1300 performances in The Rocky Horror Show around the world.
Synopsis: The Rocky Horror Show
The show tells the story of Brad and his fiancée Janet, two squeaky clean college kids who meet Dr Frank'n'Furter by chance when their car breaks down outside his house whilst on their way to visit their favourite college professor. It's an adventure they'll never forget, with fun, frolics, frocks and frivolity, bursting with timeless songs and outrageous outfits.
Directed by Christopher Luscombe, the show features all of the famous musical numbers including Sweet Transvestite, Science Fiction/Double Feature, Dammit Janet and The Time-Warp.
Duncan James said: "Frank is such an iconic role, it's an honour to be able to play him and a role that I have always wanted to do. I'm so excited to be touring with such a fun and vibrant show, and to be working with this fantastic cast."
Joanne Clifton said: "I've always loved Rocky Horror. I learnt the Time Warp in my dance classes in Grimsby when I was 4 years old … 30 years later and I'll be jumping to the left on the actual Rocky Horror stage, I can't quite believe it!"
Selected tour dates:
• Theatre Royal, Brighton: 14th December - 5th January
• Milton Keynes Theatre: 4th - 9th February
• Sheffield Lyceum: 18th - 23rd February
• Oxford New Theatre: 25th - 30th march
• Churchill Theatre, Bromley: 15th - 20th April
• New Alexandra Theatre: 13th - 25th May
• Bristol Hippodrome: 17th - 22nd June
• Royal Concert Hall, Nottingham: 28th August - 1st September
• Richmond Theatre: 25th - 30th November
Group organisers should contact their chosen theatres for details on group bookings.
For more information, visit www.rockyhorror.co.uk.