The UK tour of the play, based on the best-selling novel by Paula Hawkins, is now running until November 2019.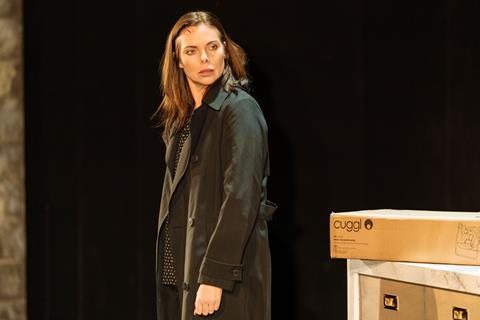 The play is currently touring having opened earlier this year and is starring Samantha Womack in the title role of Rachel Watson.
The tour was originally running until July, but has now extended its run up until 23rd November. Along the way it will visit theatres in Birmingham, Cambridge, Bradford, Woking, Eastbourne and Blackpool among others.
Samantha Womack has starred in television, film and theatre. She is best known for playing Ronnie Mitchell in BBC1's EastEnders. Other television credits include leading roles in Mount Pleasant and Game On.
Her recent films include: Kingsman: The Golden Circle and Kingsman: The Secret Service alongside Colin Firth. Samantha also recently played Morticia in a tour of The Addams Family.
About The Girl on the Train
Rachel Watson longs for a different life. Her only escape is the perfect couple she watches through the train window every day, happy and in love. Or so it appears. When Rachel learns that the woman she's been secretly watching has suddenly disappeared, she finds herself as a witness and even a suspect in a thrilling mystery in which she will face bigger revelations than she could ever have anticipated.
Oliver Farnworth, who is best known for playing Andy Carver in Coronation Street plays Scott Hipwell with John Dougall as DI Gaskill, Naeem Hayatt as Kamal Abdic, Adam Jackson-Smith as Tom Watson, Lowenna Melrose as Anna Watson, and Kirsty Oswald as Megan Hipwell. They are joined by Philippa Flynn and Matt Concannon in the ensemble.
The show is based on based on the internationally acclaimed number one best-selling novel by Paula Hawkins and the Dreamworks film. Paula Hawkins' novel has sold over 20 million copies worldwide.
Tour dates
Theatre Severn, Shrewsbury: 27th May - 1st June
Grand Opera House, Belfast: 11th - 15th June
Norwich Theatre Royal: 1st - 6th July
Marlowe Theatre, Canterbury: 20th - 24th August
The Alexandra Theatre, Birmingham: 26th - 31st August
Wycombe Swan: 17th - 21st September
Cambridge Arts Theatre: 23rd - 28th September
Churchill Theatre, Bromley: 14th - 19th October
New Victoria Theatre, Woking: 28th October - 2nd November
New Theatre, Cardiff: 11th - 16th November
Blackpool Winter Gardens: 19th - 23rd November
More dates and venues can be found on the website.
For more information, visit www.girlonthetrainplay.com.