The Coach Tourism Association has welcomed the Prime Minister's announcement which included a target date for resuming UK holidays.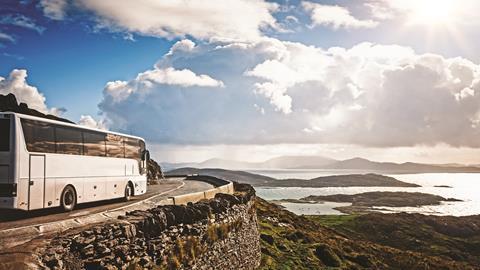 Robert Shaw, chairman of the Coach Tourism Association (CTA) said that they would be seeking clarification from the Government on some of the detailed arrangements including whether day trips can start again from 12th April.
Robert said: "The prime minister's announcement on a Roadmap out of Covid-19 lockdown for England is very welcome. While there are still a number of detailed questions, the setting of a target date in May for recommencing holidays will be a boost for the coach holiday industry. It may be a bit later than many had been hoping for, but it does now give us a date to work towards."
The Roadmap, published on 22nd February, sets out a four-step process:
Step one - from 8th March:
All schools to open.
Stay at home order in place.
People can meet one other person outside for recreation.
From 29th March:
Rule of six applies outdoors (including in private gardens).
Outdoor sports facilities can reopen.
Step two - no earlier than 12th April:
Self-catering will open for individuals or household groups.
Zoos, theme parks and drive-in cinemas will open.
Pubs and restaurants start to reopen for outdoor service.
Non-essential retail opens.
Step three - no earlier than 17th May:
Most restrictions outdoors will be lifted, subject to a limit of 30 people.
Hotels, guest houses and B&Bs will open.
Pubs and restaurants will open for indoor service.
Cinemas and theatres will open.
International travel will not resume before 17th May.
Step four - no earlier than 21st June:
All limits on social contacts to be lifted.
Large events and performances will be able to go ahead.
You can read the Government's full 'Roadmap' including all the steps and what they include here.
Robert Shaw of the CTA added: "We are engaging with tourism industry colleagues and government to get clarification on some of the detailed arrangements, including whether day trips can recommence from 12th April, even if it is only with attractions and catering outdoors. There is also uncertainty about how long we may need to retain social distancing which clearly has an impact on the passenger capacity on coaches."
"Although there are still details to flesh out, what is certain is that our passengers are desperate to travel again and we all look forward to seeing coach groups enjoying the best of the UK this summer and beyond. We are on the road back."

Robert Shaw, Coach Tourism Association
Should indoor attractions be able to open sooner than from 17th May?
The Association of Leading Visitor Attractions (ALVA) has hit out at the decision not to open indoor visitor attractions (museums, galleries, historic houses and heritage properties) until at least 17th May saying "there is no public health justification for this late reopening".
We're very disappointed that indoor attractions, inc museums, galleries, heritage sites & houses cannot open until at least 17th May. We don't believe that are compelling public health justifications for this, or for not being able to open at the same time as non-essential retail

— ALVA (@alva_uk) February 22, 2021
It believes that indoor attractions should be able to open at the same time as non-essential retail (no earlier than 12th April).