Organisers of the Group Leisure & Travel Show say they are delighted with the ongoing positive response to the 2022 exhibition, as the results of feedback surveys are published.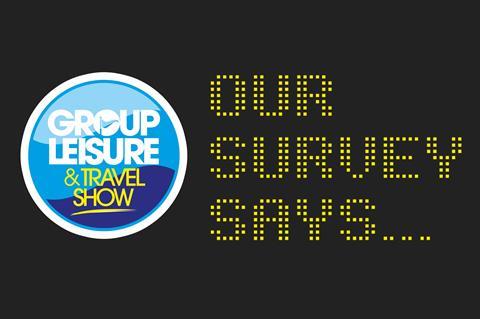 Visitors and exhibitors who attended the 2022 Group Leisure & Travel Show in October were asked to share their feedback so that event organisers could see what worked well and what could be done to make next year's exhibition even better.
The GLT Show will be back at the Marshall Arena, Milton Keynes on Thursday 5th October 2023.
This year's one day event once again provided a unique platform where group organisers and coach operators met with attractions, hotels, tour operators and suppliers. Countless group trips and holidays happen as a result of the GLT Show every year.
Exhibition organiser and sales manager, Sharon Yandell said: "Given the positive testimonials we were confident that people had a successful and enjoyable day in Milton Keynes, but the survey results just confirm it - we're delighted. My message to potential exhibitors is to take a look and then to contact me to discuss securing their preferred stand position now for 2023."
Key results from the surveys…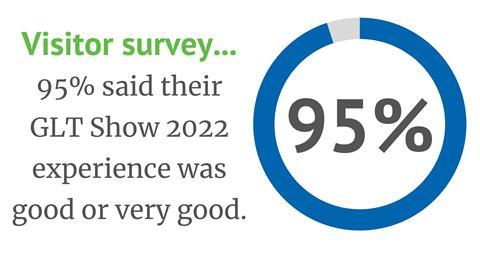 More visitor feedback included:
98% of visitors said their visit to the show gave them good ideas to help plan future group trips or holidays.
92% said they would visit the exhibition if it was held at the Marshall Arena, Milton Keynes again.
88% said they plan to, or are likely to plan to visit the show again in 2023.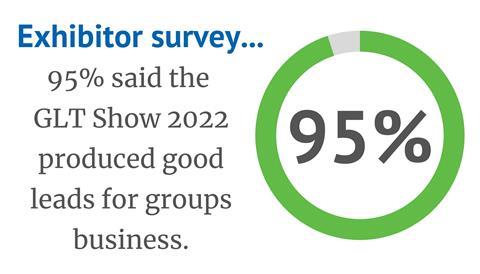 More exhibitor feedback included:
95% said they met the right people.
100% said they liked the Marshall Arena venue in Milton Keynes.
GLT Show organiser, Sharon Yandell added: "Since our move to Milton Keynes in 2019, both visitors and exhibitors have told us how much they like the convenience of the location, the easy parking and access to the venue.
"This year we added a free light lunch for all exhibitors after successfully introducing it for visitors in 2021. For us, it's vital that we create an enjoyable experience and really look after everyone who attends.
"The organising team will be working hard to ensure we further improve the experience for 2023 and I'm confident we will build on what we have achieved."
Watch: a 60-second snapshot of the 2022 show…
Or you can watch the full video highlights by clicking here.

Happy exhibitors see the benefit of the GLT Show
Stats are one thing but the feedback from those attending the show was also proof of how important the event is for both GTOs and the travel trade.
Paul Branwood, business development manager at The Royal Mint said: "We'll be back next year, but we want a bigger stand so we can bring even more Welsh attractions with us to make it a bit more immersive for the visitors. We've had a really good day, I think a lot of people have come into the stand and enjoyed what we have, but next year we want to make it even better.
"I would say this show has delivered quality over the quantity of group organisers. Everyone we have spoken to has been really good quality contacts and I feel like we are going to get a lot of business off the back of this."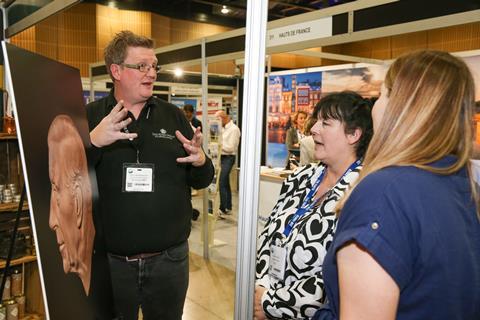 Bernie Patry-Makin, travel trade manager at Tottenham Hotspur Stadium commented: "The day has been good for us. It's our first time at the Group Leisure & Travel Show and we've had a good mix of people, I think we've had a few good leads which we think will convert into actual group bookings which is always good, and it's been busy.
"We're at the beginning of the group travel journey, it's all new to us so it's good for us to be here and have a friendly face to come and chat to and build that rapport with group travel organisers and offer them an idea of what we can do for them."
While Katie Weller of The National Gallery told us: "The groups market is really picking up for us and if we don't come to shows like this, we'll fall off the radar. We've definitely seen a lift in sales recently, groups are looking for something a bit different. I love the Marshall Arena as a venue too, it's great that it's all in one place with the awards the night before, for me it's nice and easy."
"The groups market is really picking up for us and if we don't come to shows like this, we'll fall off the radar."

Katie Weller, The National Gallery
Visitors love that face-to-face connection
We all know you can get great ideas and contacts by reading magazines and browsing online, but it's clear that the appeal of talking to real people who really understand groups is one of the reasons quality GTOs ensure they visit.
Mike Herring, group organiser for Kings Cliffe Old Blokes Club: "This show is a major source of information to help inspire our group trips, with ideas about places we can go to. By talking to someone face-to-face, it is a totally different experience to trying to do it on the telephone. It's often the little details that can overlooked, you don't get that by coming along to the show."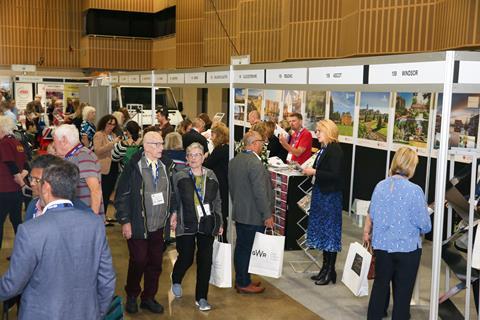 "For me, it's always a day full of discovery," said Andrew Moss of Oxford NHS Retirement Fellowship. He added: "Before you come you may have identified a few exhibitors you would like to speak to, then when you get here, there's so much more to see. It's important to come along the GLT Show because of the diversity in attractions that it offers group organisers and once you make that personal contact with people, and if you ring them up afterwards, they're so eager to help. It's really very valuable to meet the people who work at these attractions."
Interested in exhibiting?
The Group Leisure & Travel Show 2023 will take place on Thursday 5th October at the Marshall Arena, Stadium MK, Milton Keynes.
For information about exhibiting at the GLT Show, contact Sharon Yandell on 01908 613323 or email sharon.y@yandellmedia.com.
You can also find lots of information at grouptravelshow.com.