Visitors to Leonardslee Lakes & Gardens can now experience one of the largest sculpture displays in Europe by a single artist.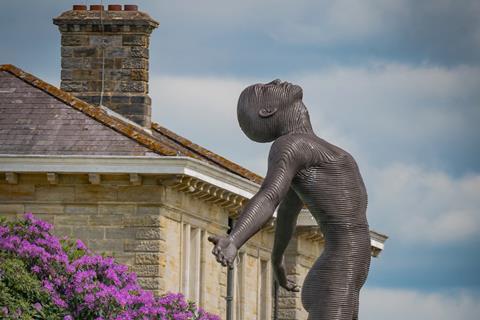 The Walk of Life exhibition at the gardens in Horsham, West Sussex, features more than 80 pieces by artist Anton Smit. It's the first time this collection, which represents different eras of Smit's life, has been on display in the UK.
Made from bronze, resin and steel, the sculptures are placed throughout the gardens, creating new views across the valley and the seven lakes.
The exhibition includes a selection of Smit's signature colossal heads, human figures and masks, with some works as tall as 7.5 metres and others much smaller figures.
Each sculpture has a QR code on its accompanying plaque so groups can find out more about each artwork as you go around.
There's also the option to download a Sculpture Trail map.
The story behind the sculptures
Bringing together two continents, the collaboration between Leonardslee and Anton Smit began in 2019 from a professional relationship between the South African artist and the gardens' owner Penny Streeter.
A poet as well as an artist, Smit offers meaning to the works with some of his own poetry and that by others, including Thomas Hardy and William Carlos Williams, which are featured alongside the sculptures.
In addition to the large scale sculptures around the gardens, there are a selection of small scale bronzes and models in Leonardslee House.
Group bookings and tours
It's recommended to book group visits in advance for the Sculpture Park with special rates and benefits available such as free on-site coach parking. Groups of ten or more can also book a 60-minute art tour with a guide to experience the Sculpture Park and Art Gallery.
There's plenty to see across the 240-acre estate, not least the Grade I listed Woodland Gardens, the Dolls' House Museum as well as Afternoon Tea and other refreshments. Visitors can look out for the rare wallaby colony too.
Having opened in 2019 after a major restoration project, Leonardslee is set in a steep-sided valley and features outstanding displays of rhododendrons, azaleas, camelias and magnolias.