Cruise operator Star Clippers now has all three of its tall-ships back in service, kick starting its Mediterranean itineraries following a halt in operations due to the pandemic.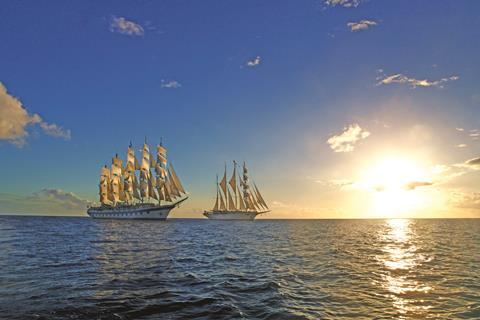 Star Clipper, one of three ships back in action after a two-year hiatus, recently set sail from Safaga, Egypt before passing through the Suez Canal.
She will join her sister ship, Star Flyer and the cruise line's flagship, Royal Clipper, in the Mediterranean where destination highlights include ports of call along the French Riviera, Amalfi Coast and Greek Islands.
Fay McCormack, general manager for Star Clippers (represented in the UK by Fred. Olsen Travel), said: "To have all three vessels back in the Mediterranean for the summer is hugely exciting and a testament to the determination of all officers, crew and land-based offices through all of the challenges we as a wider industry have faced.
"Whilst Royal Clipper and Star Flyer successfully completed their Caribbean programme over the winter, Star Clipper underwent an extensive drydock prior to resuming service this month."
All Star Clippers' ships feature open-seating dining in an appointed dining room, indoor-outdoor Tropical Bar and Piano Bar, and an Edwardian style library with a Belle Époque fireplace.
Although most groups will have missed out on summer bookings for this year, the cruise line has a wide variety of sailings for both winter and summer in 2023 and 2024.
Future highlights?
In August 2023, Royal Clipper will embark on three, seven-night sailings throughout August, taking passengers on a Croatia and Montenegro cruise.
Starting in Venice, the ship will spend the week sailing around the region's top ports, including Zadar, Mon Hvar and Dubrovnik in Croatia and Wed Kotor in Montenegro. There's even a potential swim stop listed in the Dubrovnik area to really experience the Mediterranean waters.
Star Clipper has a number of Costa Rica & Nicaragua sailings beginning in December 2023, with multiple dates listed right through to March 2024 which explore some of the more unknown areas of Central America.
Expect stops in Puntarenas and Quepos in Costa Rica, plus San Juan del Sur, Nicaragua.
For more information about future sailings with Star Clippers and to discuss group bookings, contact the sales team via email at sales@starclippers.co.uk. Further details are also available at starclippers.co.uk.