Following the success of the Group Leisure & Travel Show in October, stand bookings for October 2022 are very strong and exceed expectations, according to show sales manager Sharon Yandell.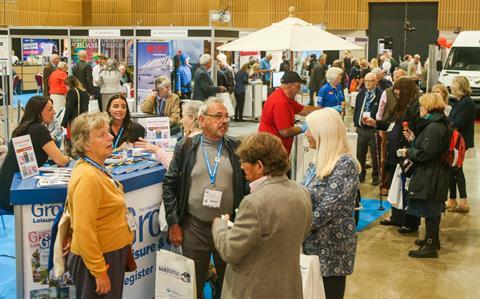 Sharon said: "The recent GLT Show was such a pleasure to stage and we have had tremendous feedback.
"I think it very much worked as a catalyst to kick-start the market again. We had around 100 specialist exhibitors which, considering the background and run up to the show, was amazing. Visitors also seemed pleased to engage with venues and attractions face to face.
"We are planning for a sell-out event in 2022 as we return to a bigger show and look to accommodate more exhibitors and visitors to our traditional levels. We are already nearly 40% booked for 2022 just a few weeks after the 2021 event."
Britain's most popular show for group travel organisers* will once again feature a free seminar theatre where celebrity guests will talk about special places and venues and will meet visitors and answer questions.
A free bacon butty breakfast will greet visitors and exhibitors, and once again a free light lunch will be provided for all visitors, and for 2022 this will be expanded to cover exhibitors, too.
One exhibitor commenting at the 2021 GLT Show was John Gibb, tourism manager of Visit Portsmouth and he summed up the feelings of many. He said: "We've met new group organisers and they've been of good quality. To be honest, I'm just so glad that you've run it. I'm so sick of virtual events.
"It's actually nice just to get out, meet people and be with them face to face; and speaking with the group organisers they feel the exact same way. For so long they've been stuck indoors and they're keen to travel again and this show has given them a chance to get back to normal and start planning things in a normal way."
"I'm definitely glad I came up and well done to the Group Leisure & Travel Team for having the faith to keep it going because it must have been a big gamble."

John Gibb, tourism manager of Visit Portsmouth
Sharon Yandell added: "I think more than ever exhibitors want to have certainty that their investment in attending exhibitions will give them a good return and that they will meet good quality GTOs and coach operators. They also want a stress free experience.
"As the market leading event in group travel, staged at a time of year when many GTOs plan for the following year, our exhibitors know they can rely on the GLT Show to deliver a professional event and not to simply make empty promises.
"It is also the only show to be exclusively supported by Group Leisure & Travel magazine and that adds considerable reach, value and prestige to the annual exhibition."
* Restarting Group Trips & Holidays Survey 2021