The annual Royal Navy International Air Day will take place on Saturday 11th July at the Royal Naval Air Station (RNAS) Yeovilton in Somerset, featuring flight displays, aerobatics and pyrotechnics.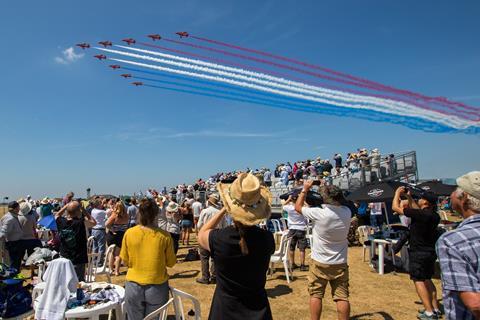 Historic warbirds, classic jets, helicopters, formation display teams and aerobatics will entertain visitors, before the display culminates in a Commando Assault Finale, featuring troops, aircraft and pyrotechnics.
As well as its range of aerial shows, visitors can walk around its showground for arena displays and military bands mixed in with a variety of different stands.
The showground will also have a fairground, static aircraft displays and interactive STEM (Science, Technology, Engineering and Maths) activities.
Jemima Smith, marketing executive for the Royal Navy International Air Day, told GLT magazine: "The Air Day provides an opportunity to see some amazing equipment and meet military personnel in a family-friendly environment.
"We are looking to attract more groups to the Air Day to showcase the Fleet Air Arm's current and future capabilities and historic accomplishments, spanning over 100 years. Visitors will see some of the world's most capable pilots and their aircraft, both in the air and on the ground."
The award-winning show is one of the south west's biggest one day events, attracting up to 40,000 visitors every year.
Offers for groups
The event's team is offering an exclusive package for coach operators and group travel organisers to run excursions to the Air Day for a minimum of 12 people. Benefits include:
Discounted ticket rates.
Free hard-standing coach park located on site.
Free driver entry ticket, brochure voucher and meal ticket.
Free website listing and link to your website/booking office on the event's new website.
Pictures/editorial available for your promotional material.
Air Show posters (A3 and A4), plus leaflets available for publicity.
Jemima added: "Each year a number of groups attend the show, from coach operators and work colleagues to charities and associations. We have received some brilliant positive feedback about their experiences and many have been coming back for years."
A UK airshow exclusive
A Royal Danish Air Force MH-60R Seahawk multi-mission maritime helicopter is the first participation aircraft announced for this year's event - never before seen at a UK airshow.
It will fly across to RNAS Yeovilton from Karup in Denmark to go on static display.
The helicopters are very advanced, with a more powerful radar, increased range and greater payload capacity (the amount of weight it can carry).
Group travel organisers can register their interest in an excursion to the Air Day by emailing Jemima Smith jemima@ahagb.co.uk.