A number of new group packages have been announced for the heritage steamship SS Shieldhall's 2019 sailing season.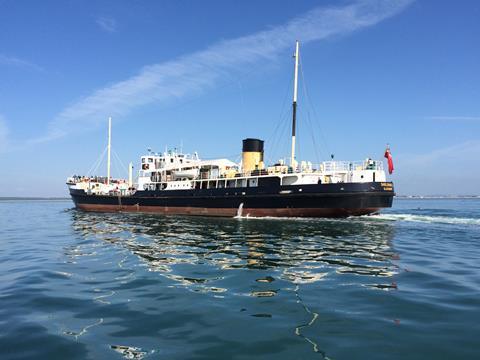 The packages, now available to book, are for trips on board the ship between May and September 2019.
As part of the new offer, the Southampton based ship has partnered with Sea City Museum, Solent Sky and Hollycombe Steam in the Country to offer full day itineraries in and around the city. The trips will all culminate in an afternoon cruise on the SS Shieldhall.
During a trip on the SS Shieldhall groups will be able to experience an 'access all areas' experience, during which they will be encouraged to visit the engine room and boiler room, and meet the Captain on the bridge.
SS Shieldhall themed sailings
Special group packages are also available on a number of themed trips on board the ship.
The 'In the Footsteps of Titanic' sailing on 25th May includes a visit to Southampton's SeaCity Museum with its Titanic Gallery, a guided walk around Southampton's Titanic Quarter and Titanic Memorials, plus a cruise on the SS Shieldhall.
Groups will also have the opportunity to board the ship for an American Independence Day cruise on 30th June, which will see jazz numbers played by Shieldhall Stomper's Jazz Band.
Meanwhile, on 16th August passengers will be able to witness the Cowes fireworks from the ship as they travel down Southampton Water listening to live jazz from the same band.
Another music themed cruise will set sail from Southampton on 17th August, featuring a tribute band RU40, which will play a number of classic hits include Red Red Wine and Rat in the Kitchen.
A new package has also been developed with Hollycombe Steam in the Country; 'Steam on Water, Steam on Land, Steam by Day and Steam by Night' will set sail on 14th September. This partnership will provide groups with the chance to experience a vintage steamship and vintage fairground in one trip.
Sailing on SS Shieldhall
SS Shieldhall has a galley, licensed bar and saloon, with a selection of hot and cold food, and real ale available on all trips.
Other planned excursions for 2019 include cruises that coincide with Father's Day, Bournemouth Air Festival and the Southampton Boat Show, among many other notable events.
For more information on the 2019 sailing programme, visit www.ss-shieldhall.co.uk.