Voyages to Antiquity has created seven new SailAway itineraries for its 2019 summer season.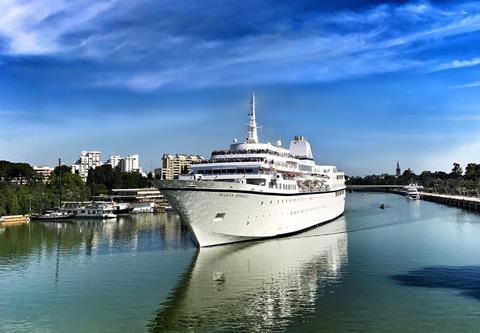 Passengers will be able to embark on a number of new cruises, ranging in duration from nine to 14 days and embarking from destinations including Athens, Seville, Copenhagen and London, among others.
The seven new 2019 SailAway cruises
The Islands of the Aegean SailAway itinerary will see groups sail on a nine day trip from Athens. Departing 26th April, the cruise will stop at Delos, Mykonos, Crete, Karpathos, Nisyros, Rhodes and Santorini and is intended to provide the opportunity to explore the history, culture and myths of the ancient Greeks.
A 13 day itinerary, the Renaissance Italy & Historic Islands SailAway cruise, will set sail on 25th May from Rome to Seville. Providing the opportunity to see the iconic leaning tower of Pisa, a trip to the 13th century Alhambra Palace and a visit to the Picasso Museum.
The European Connoisseur SailAway will depart on 6th June from Seville to London. Experience a port wine tasting session in Oporto, explore the pilgrimage site of Santiago de Compestela and visit the coastal city of La Rochelle as part of the excursions programme.
Land of the Midnight Sun SailAway 15 day cruise will depart from 18th June from London to Copenhagen. During the trip groups will be able to take in views of the fjords, visit remote ports of Harstad and see some of the Shetland Islands ponies.
The Norwegian Fjords SailAway cruise is a 14 day trip from Copenhagen to London on 17th July. Passengers will visit three countries and have the opportunity to take part in seven shore excursions. Highlights include a ride on the scenic railway in Flam, a stroll through Norway's biggest port, Bergen, and trips in the cities of Stravanger and Kristiansand.
The Three Rivers Sailway is a 13 day cruise departing on 14th August from London to Lisbon. The itinerary includes a trip on the Seine, a day out in Paris and a trail through the Gironde countryside to Bordeaux to learn about the art of winemaking.
The last of the new sailings is the Mediterranean Odyssey SailAway itinerary, which will depart on 26th August from Lisbon to Rome. Passengers will experience sherry-tasting in Cadiz, a tour of Malaga, and the chance to travel through the Andalusian countryside to the Moorish Alhambra Palace in Granada.
GTOs looking for more information or to book can visit, www.voyagestoantiquity.com.