Saga Holidays has announced plans to launch a new build boutique river cruise ship, Spirit of the Rhine, which will set sail on European rivers in spring 2021.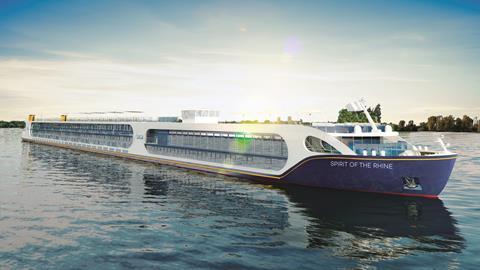 Following the launch of Saga's new luxury boutique ocean cruise ship, Spirit of Discovery in July this year, and the launch of her sister ship in summer 2020, the new river ship will aim to bring the luxury of ocean cruising to river cruising for the very first time, according to Saga.
The new ship will take inspiration from Saga's ocean cruise liners interiors, with almost all of the 17 square metre cabins featuring a French balcony and floor-to-ceiling windows.
It will sail on rivers including the Rhine, Moselle, Main and Danube, as well as some of Holland's waterways. Group travel organisers who would like more information can now register their interest in the ship.
The publication of its first itineraries are scheduled for 2nd December.
Robin Shaw, CEO of Saga Travel said: "I am delighted to announce that we are using our experience in ocean cruising to design a bespoke ship for those guests who want a luxurious, boutique river cruise experience.
"This launch of Spirit of the Rhine heralds a step change in the future of river cruising and when it comes to the onboard experience, our boutique approach to cruising will ensure that our guests have an experience that combines unrivalled, first class service with bespoke authentic experiences that are tailored just for them."
More about the new ship
When it comes to onboard facilities, the ship will have its own lounge bar, a separate library area, a main restaurant as well as a reservation-only restaurant, a large sun deck, jacuzzi, barbecue and an extensive seating area.
In addition, Spirit of the Rhine will also have a small gym onboard and free WIFI will be available throughout.
All cruises will be full-board to include wine, beer and soft drinks with lunch and dinner and itineraries are planned to feature a mix of popular destinations as well as some less familiar ports of call - with excursion options to choose from too.
It will be built by Vahali, a Dutch-founded company that has been building river-friendly ships since 1923.