With three London venues to choose from, and a fourth on the way, groups can expect a wide range of top performances across the rest of the year and into next.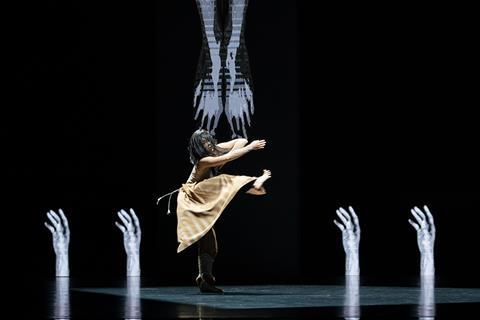 Highlights at Sadler's Wells Theatre
The world premiere of England on Fire (8th - 11th November 2023), inspired by Mat Osman and Stephen Ellcock's book of the same name, will take to the stage at Sadler's Wells Theatre in Clerkenwell, London, and is said to be an evocative journey into contemporary life that defies all expectation.
The English National Ballet's Our Voices (21st - 30th September 2023) will feature three works celebrating classical, contemporary and neo-classical dance, with music performed live by English National Ballet Philharmonic.
Carlos Acosta returns to Sadler's Wells Theatre in the role of The Bull in his new adaptation of Carmen which premieres in 2024, with the season featuring collaborations with internationally renowned musicians.
Birmingham Royal Ballet brings the sound of metal to Sadler's Wells Theatre in Black Sabbath – The Ballet (18th - 21st October 2023) and Cloud Gate Dance Theatre of Taiwan collaborates with Icelandic band Sigur Rós on Lunar Halo (30th November - 2nd December 2023).
Highlights at the Peacock Theatre
Award-winning choreographer James Cousins and flamenco master Francisco Hidalgo come together to choreograph House of Flamenka (17th - 28th October 2023), returning to the Peacock Theatre after its run last year, where it's said that hypermasculinity and high camp collide.
In a blistering and exhilarating take on the Argentine Malambo, Malevo brings its raw talent to the UK for the first time (31st October - 4th November 2023). Malevo is said to present a fresh, energetic, modern-day interpretation of the traditional folkloric music and dance of the Gauchos, the South American Cowboys.
Highlights at the Lilian Baylis Studio
The Lilian Baylis Studio in Angel will host two world premieres, the first being a mixed bill of dance through the Young Assiciates programme (22nd - 23rd November 2023) which supports talented young artists and choreographers with the first steps in their career.
The same venue will also host J Neve Harrington who makes her Lilian Baylis Studio debut with Some Times (11th - 13th October 2023), a new full-length work performed in the round by an intergenerational cast of professional artists alongside a community cast of local young adults. 
Sadler's Wells has three theatres to choose from: Sadler's Wells Theatre, Lilian Baylis Studio and Peacock Theatre, plus a new venue coming soon to Queen Elizabeth Olympic Park in Stratford, east London.